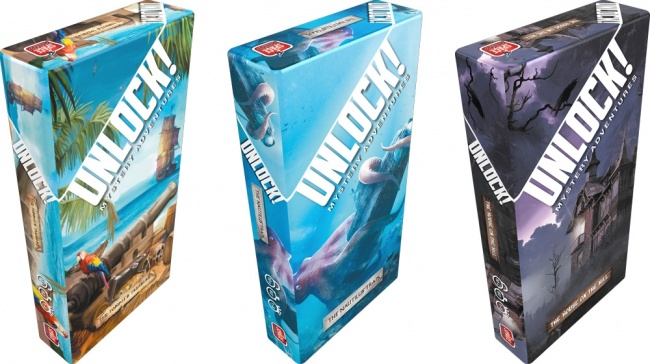 The trend of publishers creating games inspired by the "Escape Room" phenomenon continues, with Asmodee announcing three new titles in Space Cowboys'
Unlock!
series, all releasing in Q4.
Like earlier games in the line (see "'Escape Room'-style Puzzles from Space Cowboys"), each game offers a deck full of puzzles that players work together to solve before the one hour time limit runs out. Cards representing items and clues must be combined correctly for players to advance, hoping to discover the four-digit code that allows them to "escape."
Three new games are included in the second wave of Unlock!:
The House on the Hill - The players are intrepid ghost hunters investigating mysterious activities in an abandoned house. The mystery revolves around the legendary Book of the Dead, and the players must enter the house, find the book, and stop the curse before it's too late.

The Nautilus' Traps - The players are exploring the bottom of the sea when their submarine is attacked by a terrible sea monster. Now they must find a way out of the depths and back to the surface before their air runs out.

Tonipal's Treasure - The fabled treasures of the pirate Captain Smith are hidden on Tonipal Island, and the players are treasure hunters trying to find it when the Governor has them thrown into prison. Now they must escape before a rival finds the treasure.
All three new titles are sold separately. They can be played by any number of players acting as a team, and take an hour to play. MSRP is $14.99 each.
(See images of each game in the gallery below.)