In Business 3x3, a business retailer or executive will share their experience with three things they've done right, three things they've done wrong, and what else they've learned along the way.
To many people, Joe Field is "the man who invented Free Comic Book Day." But who knew that the road to FCBD started in 1986?
Field was working in sales and marketing at KJOY AM in Stockton, Ca. when Marvel Comics' 25th Anniversary rolled around. Always looking for a new promotion, Field, a longtime comic book fan, asked Marvel to name Stockton the official birthplace of the Fantastic Four. "I was trying to fix a major continuity glitch as I saw it," he laughs today.
Marvel declined to make Field's notion official, but another aggressive promoter at Marvel loved the idea—Stan Lee.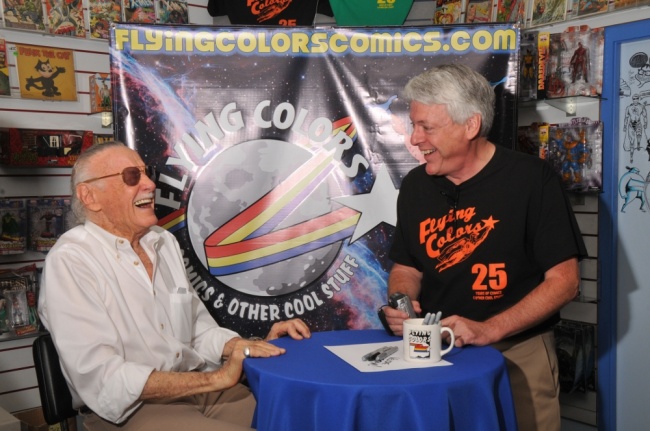 "So Stan came to town, the convention and visitors bureau strung a 50-foot banner across city hall, and media came from all over Northern California," Field remembers. The success of the promotion and the buzz of meeting Stan pushed Field in the direction of working in comics. He interviewed with Bud Plant to be the company's marketing director, and applied for sales positions with Marvel, DC, and Eclipse. Field loved comics, but he knew something else about himself as well.
"I realized I was a control freak and the way to deal with that was to be my own boss," he says.
So on Oct. 3, 1988, Field opened his own store, Flying Colors Comics, in Concord, CA. "We did $64 business that day," He recalls.
Since then, both Field and Flying Colors have become highly respected institutions in comics. And Field has learned much along the way.
THE GOOD
Get Help
Starting a business from scratch is tough, and Field would have been flying blind but for some well-placed assistance.
"I got lots of good help along the way," Field says. "Mike Freidrich and Mel Thompson were my consultants in opening the store. My father-in-law, who was a former chairman of the board at Lucky Stores, was able to get me in with their analysis department to look at locations."
Field's own father helped with the lease negotiation as well. "So it became a family business with the whole family behind us," he said today. "Like I say, I like to be my own boss, but when there's good help available, I learned to take it."
Use Your Family as Market Research
"I went into this knowing that I'd get the fans to show up," Field says. "But would I get anyone else to show up?"
Field wanted to make Flying Colors a genuine destination for the whole family. He bounced ideas off his wife and three young daughters to get input on how to make the store family-friendly.
"We're now talking about this great influx of women into comics, but 30 years ago I was working on that!" he laughs. "The best thing I could have done was open a store that was accessible to everyone. I didn't have to grown into that with the market, that's the way we've been since Day One."
Pick Up on the Trends
Field knows his own ear to the ground is his best weapon. "I've been observant," he says. "On the micro- scale, I try to listen to what customers are talking about and what trends and merchandise they might like. The more we listen to our customers, the better we're going to be at serving them."
Looking outside the window is massively important, too. "On the more macro- level, it was just looking at a line out my door on Free Ice Cream Day at Baskin-Robbins and thinking, 'Hey, we should do this on a wide basis in comics.'"
Sure enough, Field got the ball rolling to create Free Comic Book Day in 2002. Today, it's the biggest day on the comic store retail calendar.
THE BAD
But Don't Surf the Fads
Listen to the customers, sure. But always be wary.
"Over the course of the last 30 years, there have been tremendous ups and downs in the market, but there have also been these fads that have come along—POGs, Pokemon, whatever," Field says. "And where we've certainly dabbled, we've never made those things the thing. But we've still made mistakes along the way in terms of ordering. I thought we could be a store that could carry all sorts of plush toys, for instance, but we realized there are a million other places that carry that sort of thing, and that became a category that was taking up too much space and too much money for us."
Bottom line? Field now keeps things close to home. "We're a specialty store specializing in comic books," he says. "The closer we stay to that target, the better."
Understand the Maturity of the Business
Field came into comic retail expecting a business that had matured. He found things were occasionally not so.
"My craziest mistake was thinking that the comics market was at a mature enough place to actually be a business that ran like a business," he says. "But this is a business that runs like no other. I love fannish-ness, but sometimes, that's the first thing, and then business sense develops by necessity."
Field found a market that didn't always promote well and sometimes needed a nudge to do so. "So I like to think I brought some business sense in this from the start," he says. "But sometimes it feels like the longer I've been in this, the less I know."
Connect the Reader to the Product
Field likes the variety of product being offered in comics today. But the sheer volume can be gobsmacking.
"One of the biggest things we're dealing with in this market, and I'm bold enough to tell any publisher, big or small, is that… you're essentially walking into a Nebraska cornfield," Field says. "Everything is the same height, and you just see rows and rows as far as the eye can see. It's [the publishers'] job to stick out in that cornfield. We have this massively diverse market, which is great, but it's also this very flat market, which is not great."
Field admits he has a hard time matching product to people, especially given the volume.
"On a 1-to-1, retailer-to-consumer basis, yes, we're pushing our favorites," he says. "But when there are 150 new titles coming out on an average week, the best comic shop in the world doesn't have the staff to be able to move all 150 of those. The best we can hope for is that each staff member is pushing their 3-4 favorites. Ay my store, that means we're really pushing 15 to 20 titles a week. That means 130 titles need to move off the rack by some other magical means. We have great product pretty much across the board, but the thing that's most challenging right now is matching product to people."
AND WHAT ELSE?
"After [the Stockton 25th Anniversary event], I went to lunch with Stan [Lee], and he said, 'Y'know, what, kid? You did a pretty good job on this promotion.' I said, 'Well, Stan, if you ever need a PR guy, just give me a call.' Sure enough, a few months later, I got a call from Stan and he said 'Remember that talk? Well, I want you to be my outside man.' So Stan hired me to handle publicity for his wife, Joan's, novel, a steamy little romance called The Pleasure Palace. So for the next three months, I talked to Stan and Joan on the phone almost every day setting up reviews and interviews for the book. It was a lot of fun."
"Based on that gig, I got a call from a group of retailers in the San Francisco Bay area to do PR for a little convention known as The Wonderful World of Comics, later shortened to WonderCon. In short order, I became one of the owners of that convention, and two years after that, I decided to make the break from radio."
"One of the nice things about Free Comic Book Day is hearing from retailers as far away as South Africa, Europe, or Australia and hearing all of them say, 'This is our best day of the year.' And that started at this little, 1700-square foot shop in Concord, California. I certainly can't take credit for all of it. It's just an idea. It takes the passion and the execution of thousands of people to make it work."
"I totally believe that anyone who is a comic reader can walk into a shop and find something they want to come back to time and time again. Now will they want to pay for it time and time again? That's another question. I think in many ways, retailers have become the window shopping for other sales channels. It does drive me a little bit crazy to see people bring out their cell phones and shoot barcodes and all that, but I hope that everyone wants an experience when they shop, and we give them as good an experience as we can. But one of the sad truths of the marketplace right now is that as much as everyone wants a shopping experience, not everyone wants to pay for it."
"I hope you see the irony that I'm the guy who created the biggest free day in this business… and now I get to deal with this on the other side."
"I just signed a lease on a new space, a warehouse space where we'll be able to do events, back issue sales, art lessons, all kinds of different things. It will take us a few months to get things up and rolling, but it's only 200 yards from the main store. It's giving us the flexibility to move things in and out and make us more modular in terms of what we can present. Again, create the experience."
See more images in the gallery below!