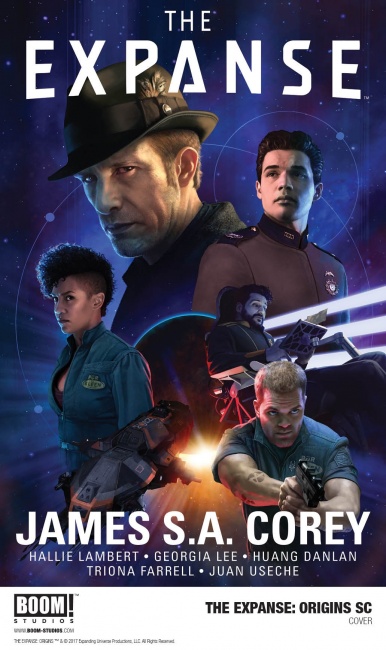 BOOM! Studios will reveal the origin of the crew of the
Rocinante
this February.
The Expanse: Origins OGN features a story from New York Times bestselling author and The Expanse creator James S. A. Corey. TV series writers Hallie Lambert and Georgia Lee also contribute stories. Huang Danlan (Venus) illustrates the OGN, which includes the origin stories of Detective Miller and the crew of the Rocinante: James Holden, Naomi Nagata, Alex Kamal, and Amos Burton. The Rahzzah (Luke Cage) provides the cover.
The OGN officially ties in to The Expanse canon, which includes a multi-volume space opera from Corey, the pen name of Daniel Abraham and Ty Franck, and a popular television adaptation of the books that airs on Syfy. The second season was released on home video this summer (see "DVD Round-Up: 'Kong: Skull Island,' 'Free Fire,' 'Valerian,' 'Resident Evil,' 'Adventure Time,' & 'The Expanse'"), and the third season will premiere in early 2018.
Originally conceived as an RPG, the book series is also coming home to gaming in 2018 courtesy of Green Ronin Publishing, who will crowdfund a roleplaying game adaptation in early 2018 (see "James S. A. Corey's 'The Expanse' Gets Rpg Adaptation").