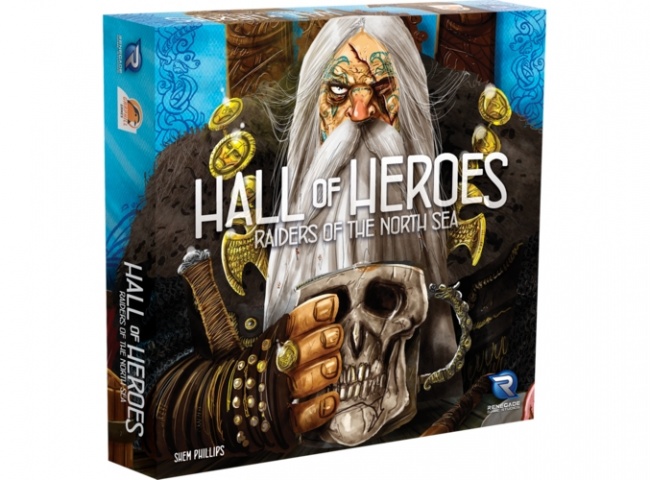 The on-going Viking saga from Garphill Games and Renegade Game Studios continues with two new expansions for
Raiders of the North Sea
:
Hall of Heroes
and
Fields of Fame
, both scheduled to release in the fourth quarter.
Hall of Heroes
adds a new Mead Hall board to the game, where players can take on quests which can be completed by discarding warriors from their hand. Completing a quest awards the player victory points as well as rewards of iron, gold, and silver. Mead can also be collected to enhance the battle strength of the player's warriors. This expansion also includes components to add an additional player to the game.
This expansion set includes 1 Mead Hall board, 6 player boards, 61 cards, 18 tiles, 1 worker pawn, and 47 tokens and markers.
Hall of Heroes
requires the base game to play, and supports games with 2 to 5 players, with a playing time of a little more than an hour. MSRP is $50.00.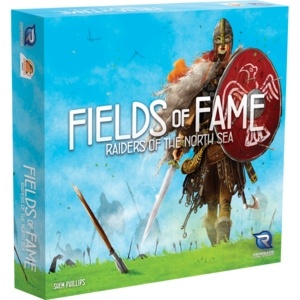 In
Fields of Fame
, the Vikings must now contend with an alliance of enemy jarls that have allied against them. When a Jarl token appears as part of a plunder set, the player can fight them for fame or attempt to recruit them, both of which risks suffering wounds that reduce their strength in battle, or flee, which will cost fame or points. The expansion also offers a new way for players to earn points by sending out stronger pillaging crews and materials to add an additional player.
Fields of Fame
will come with 1 Township board, 6 Encounter boards, 4 worker pawns, 77 tokens, 49 cards, and 2 Valkyrie dice.
Raiders of the North Sea
is required to use the materials in this expansion, which can be played by 2 to 5 players in a little over an hour. MSRP is $50.00.
Renegade is bringing Shem Phillips' entire series of Viking-themed games to the U.S. this year (see "
'North Sea' Viking Saga Continues
").