In Business 3x3, a business retailer or executive will share their experience with three things they've done right, three things they've done wrong, and what else they've learned along the way.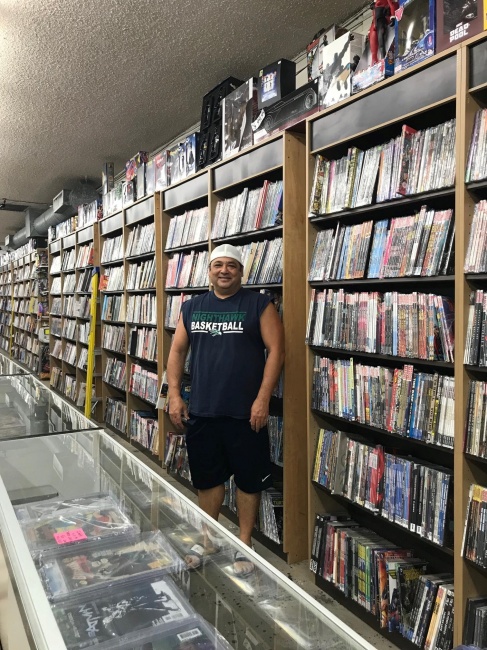 Ed Sandburg started retailing in the simplest of simple ways. He used money from his paper route as a child to go to swap meets and buy comics. He'd read them, then sell them. He soon started developing his own small clientele.
By the time he was 17 and driving, Sandburg started working at a comic store. After a couple stops and starts in a business of his own, he founded Comics-N-Stuff in 1994. Today, the massive chain has nine location in and around San Diego.
Nine stores are quite an achievement. So are Sandburg's five sons, who he coaches in baseball and basketball.
"I keep telling myself I want to cut back on stores, because so much of my weekends are spent at baseball and basketball tournaments," he says.
But there's always that call from a property manager looking for him to open a 10th store…
THE GOOD
Expand Rentals for Better Pricing
Nine stores means lots of rentals. Lots of rentals means great pricing for Sandburg and Comics-N-Stuff.
"I have a lot of stores in malls, and now I get calls from GMs in other cities wanting me to take space in a new mall," Sandburg says. "Ideally, I would shrink down right now, but I can't because the landlords give me such great deals because of the volume of use I have. They make exceptions for me."
Sandburg knows his lower rental rates give him a competitive advantage. Still, he's wary about expanding any further.
"Nowadays, the opportunity has to be perfect for me," he says. "I'm not doing it unless it's perfect."
Still, Own Some Real Estate
Despite the fact that he has a lot of rentals, Sandburg sometimes wishes it was otherwise.
"It is definitely better to own the property, but I'm in California, where real estate is very expensive," he says. "And being self-employed, it's hard to find a loan. If I could own all the buildings my stores are in, I would. I would rather own property than lease. That's for sure."
Good news: Sandburg owns one of the buildings housing one of his stores.
"For me, that's my retirement," he says. "It's a 12,500 square-foot building in San Diego. That's going to be worth something when I retire."
Invest in Silver Age
Sandburg has another time-in-a-bottle trick that he thinks becomes money in a bottle.
"The '90s era stuff in comics? When everything was mass-produced? When Image and Valiant were initially booming, I didn't think any of that stuff was lasting," he says. "I sold a lot of it at the time, which was good. But when dealers wanted it, I traded a lot of it for Silver Age."
That copy of Spawn #1, alas, is still four bucks today. Money invested in Silver Age books 25 years ago has paid off much better, and Sandburg keeps at it.
"Today, I get Silver Age books that I don't even put out," he says. "I just put them in my back room, and if someone says, 'Hey, do you have this?,' I go get it. But otherwise, I can let it sit and appreciate by 10 to 15 percent every year."
Even big checkbooks don't dissuade Sandburg.
"I've had a couple dealers come by here and say, 'I'm going to spend $30,000 on a bunch of Silver Age books, but you gotta give me 30% off,'" he says. "I say, 'No thank you.' I don't need to sell the book now, especially at 30-off. I'll sell it next year for 10% more."
THE BAD
Allocate Your Time
Nine stores also means a lot of road time…which Sandburg does not like very much.
"I spend two days a week driving around between all the stores," he says. "I'm a very hands-on owner. I would love to not drive around two days a week. That's a problem. Two days a week… I know it's not a waste of time, but it feels like it, all that time behind the wheel. I would love to be doing other things - pricing Silver Age books, making buys, being in the store. And since I'm the only person who buys, sometimes I miss collections."
Watch Your Employees
Prior to 1994, Sandburg had a previous comic store. Employee theft drove him out of business.
"My parents went to the Philippines for a month, so I watched their [jewelry] store. I came back to my store and noticed I was missing thousands and thousand of comic books," he says. "My manager ripped me off blind. I was so frustrated, I just got rid of everything."
Building a staff is important, and difficult. Sandburg feels his growth is predicated on his ability to find quality employees.
"Right now, I know I have one or two great employees per store, and I hope I have more!" he says. "I'd like to have more I can count on for management-level tasks, but it's hard."
Do Buys Yourself
Time, a nine-store footprint, and the constant search for employees make it difficult to handle every task. But Sandburg keeps one key task to himself.
"I've had employees buying stuff before when I first started, but then they start looking at it, they want it," he says. "I could probably train someone to do that for me, but I'd rather just do it myself."
Sandburg also employs a buck-stops-here mentality.
"When I buy, I know what I'm buying and who I'm buying it from," he says. "Someone else may buy something that's stolen. If I think it's stolen or if I just have a bad feeling about something, I just don't buy it. I just feel like I need to control this. I need to know where this is coming from, the history."
Sandburg's philosophy allows him to be a little altruistic as well when the instance calls for it.
"If someone's selling something because of hard times, I can usually tell," he says. "And sometimes I'll pay them a little more."
AND WHAT ELSE?
"Every store is different. My mall stores, I sell very little in new comic books. I have three main stores—one South Bay, one North County, and El Cajon—we sell quite a bit of new product. We have regular regulars. I could tell you what time of day it is and not even look at the clock; I know just by which customers are in the store."
"We have 100,000 back-issue books in each of out three main stores, bagged and boarded, alphabetized and numbered. I have over 2 million comics. And in those three stores, we have 100,000 books that you can get to."
"I have a couple 17,000 square-foot stores. And they're loaded with inventory. A lot of it feels like dead inventory, but you never know. You'd be amazed at what comes around again and starts selling. Gundam models. Beyblades. I had a ton of Beyblades, and they came back around again and I sold them all."
"When Pokemon came around, many stores ordered 2-3-4-5 boxes. I think I had five stores at the time, and I ordered, like, 300 boxes per store. I knew I wasn't going to get everything I ordered; I knew I'd get allocated. But I took as big a risk as I could. I talked to other people and distributors I knew, and they told me if I wound up with too much, they'd buy it from me. We got huge amounts of Pokemon cards. And because we placed those huge orders, our allocations didn't bite as much. We always had Pokemon in stock. Pokemon was one of the biggest money-makers I ever had."
"I've had so many tell me, 'Ed, you're spending too much time here.' You know what? I still enjoy doing this stuff. So for me, it's not work. When you enjoy what you're doing, you're not working."
"I don't see myself retiring. I see myself selling off my stores to my employees or whatever, keeping maybe just one."
See more images in the gallery below!