It was the best of times, but it wasn't the worst of times: Although Kristen McLean of NPD BookScan described the retail book channel and the direct market as ""A Tale of Two Cities" at the ICv2 Insider Sessions at New York Comic Con (See "NYCC Insider Sessions Powered by ICv2: Bookstores Could Surpass Comic Shops by 2020") what she saw was a boom in graphic novel sales in online and brick-and-mortar bookstores and mass market stores and a direct market that was relatively flat. After a look at the different landscapes of the two "cities," she offered some advice for retailers on how to use recent trends to their advantage.

McLean began with a look at BookScan unit sales data, which includes online retailers, chain and independent bookstores, and mass-market stores such as Target, but not the direct market. The book market as a whole (all types, not just graphic novels) is essentially flat, but there has been an internal shift: Print sales have increased by 2.8% since 2013, but that has been counterbalanced by a drop in digital sales.

On the other hand, sales of comics and graphic novels in the book channel are way up, with a 25% increase between 2014 and 2016 and a more modest 6% growth in the last year—and much of that growth has been driven by childrens' comics and graphic novels (including young adult titles), which have had a compound annual growth rate of 25% since 2013.

The Book Channel: Genres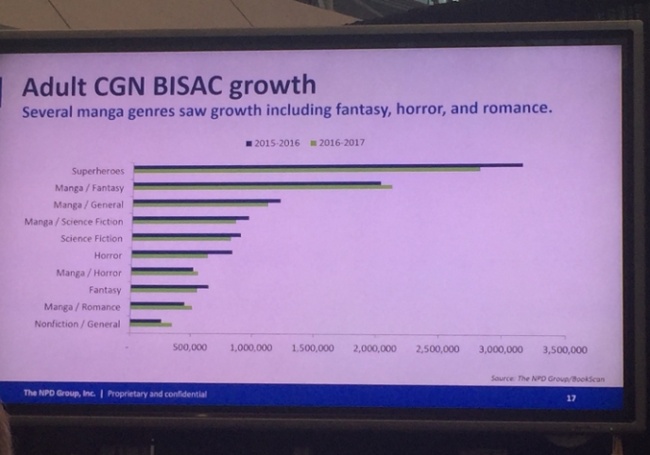 In the Adult Graphic Novels category (which includes manga), superhero sales were down in 2016-7, partly because of strong sales the previous year, led by the movie-driven Batman books. Manga sales were up in all categories except "general," and that drop was not a real drop in sales—it came from shifting VIZ Media's best-selling
Tokyo Ghoul
to the horror category.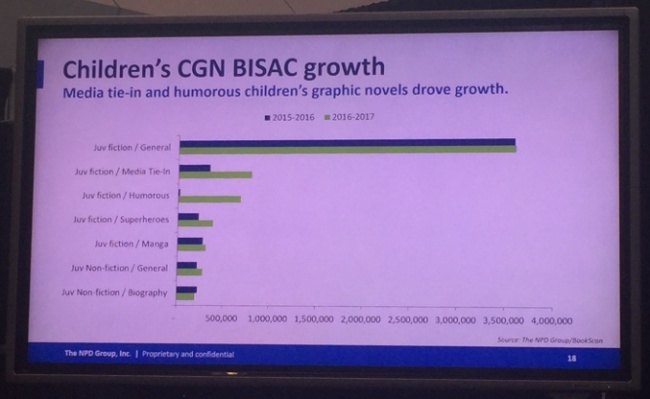 Children's graphic novels looked very different, with strong growth in the media tie-in category. "It's a huge BISAC category that was added a few years go before
Frozen
," McLean said, "and then
Frozen
came along and now we can't stop this BISAC. It's just crazy growth." Humor is also way up. "That would be Dav Pilkey's
Dog Man,
which is just crushing it, not only in the juvenile space but in the best-seller list in books generally," McLean said. This category also includes
Dork Diaries
and similar books which are not strictly graphic novels but are categorized as such by their publishers. Superheroes, manga, and non-fiction are all up, and biography is down a bit, but that's a category to watch, McLean said, as it includes Raina Telgemeier's
Smile
and
Sisters.
Market Share: The Book Channel
In the adult book market, as measured by BookScan, VIZ Media has the top graphic novel market share in pieces, with 23% of the market (although "other" took up 25%). DC Comics had 14%, Marvel 10%, and Image Comics 9%, with three manga publishers (Kodansha Comics, Yen Press, and Seven Seas) taking up the rest of the pie.
The largest category on the children's side was also "other," with 38% of the market, but the largest single publisher was Scholastic's Graphix, with 33%. No other publisher had more than a 7% share. Scholastic has two advantages, McLean pointed out: It came to the category early, with Jeff Smith's
Bone,
and it has book fairs, so it can get new books in front of their audience quickly. "They have really put a lot of energy into creating great content for kids, and it is showing," McLean said.
Market Share: BookScan vs. Diamond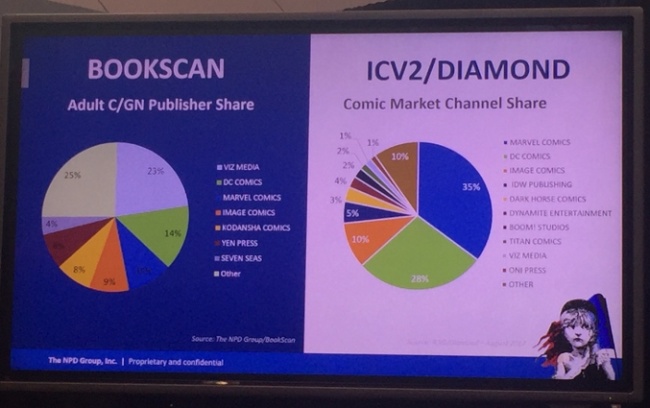 McLean then compared publishers' market shares in the adult book channel and the direct market (using Diamond's numbers) for the month of August 2017. Marvel dominated the direct market, with a 35% share, followed by DC Comics (28%), Image Comics (10%), and everyone else, with no other single publisher claiming more than 3%. VIZ Media, which was the top publisher in the book channel, only had a 1% market share in comics shops.
Best-Sellers: Book Channel
Breaking it down even further, McLean presented lists of the top 20 best-sellers in the adult and children's categories, using year-to-date BookScan data. In the adult category, the first volume of
March
took the top spot and the
March
trilogy box set was number two. After that came
Batman: The Killing Joke Dlx. HC,
then two volumes of
The Walking Dead,
a volume of
Saga,
and the first volume of
Tokyo Ghoul.
Scholastic titles took up fully half the children's best-seller list, with multiple titles by Telgemeier and Pilkey and several volumes of the Baby-Sitters Club graphic novels. In fact, the first six slots were all Scholastic titles, followed by
Trayaurus and the Enchanted Crystal,
a Minecraft graphic novel by the YouTube personality DanTDM.
Looking at units sold, children's titles did far better than adult books: The top-selling adult book sold 77,000 units, which would put in the last place on the children's chart. The top-selling children's book, Raina Telgemeier's
Ghosts,
sold 321,000 copies. "These books are going out through lots of different channels," McLean said. "Target's commitment to juvenile products and graphic novels has accelerated and amplified this trend... Kids are discovering books in a book fair or a Target, and that becomes the gateway to their love of comics and graphic novels."
Best-Sellers: BookScan vs. Diamond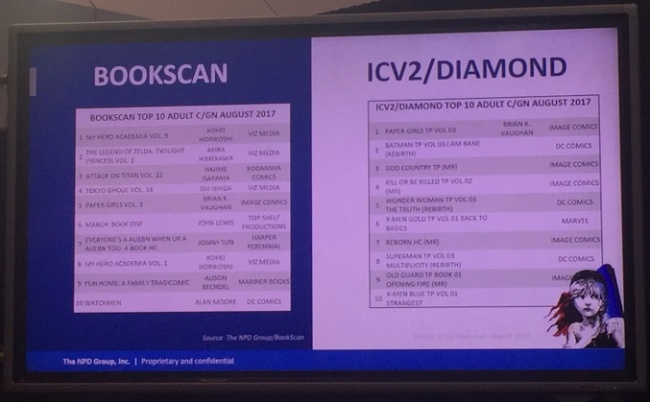 Once again, McLean juxtaposed the August 2017 best-seller charts from BookScan and Diamond to highlight the differences between the two channels. Half of the BookScan chart was manga, with VIZ taking the first, second, fourth, and eighth slots and the most recent volume of
Attack on Titan
in number three. Vol. 3 of Brian K. Vaughan's
Paper Girls,
an Image Comics title, was number five on the BookScan chart and number one on the Diamond chart. Image Comics had five slots on the Diamond chart and just one on the BookScan side. McLean didn't draw any conclusions from this other than to say "It is going to be really important to get a view of both sides of this market so we can really understand what is going on, and you can understand your opportunities."
The Importance of Experience
McLean discussed several megatrends she is watching in the overall retail landscape and zeroed in on one that is the most important to retailers: Consumers are shifting their spending from "stuff" to experiences. No matter how good Amazon's algorithms for recommending books may be, she said, "You will never be able to replicate the experience of a really amazing store online. There's a lot of data that shows how few titles you can see online versus what you encounter in a bookstore."
"At a time when we have all this brilliant, amazing content we have this demographic shift coming up in our business of comics and graphic novels," she said. "Facilitating discovery of new content and especially getting people to be fans [is] very hard to accomplish online. I think it's really important to think about how to facilitate positive experiences for the people who buy our content, whether or not that's just being an amazing retailer and having a store that people will drive 100 miles to go to because it's so cool to be there, whether or not it's building a gaming lounge next to your store or cafes where people can hang out... The way we are going to continue to grow this and continue to engage this is about the reading experience and the pleasure of being in those spaces. They have to feel really good, and they have to really work for the consumer. I think that's a super, super important thing to be thinking about as we see these channel shifts play themselves out."