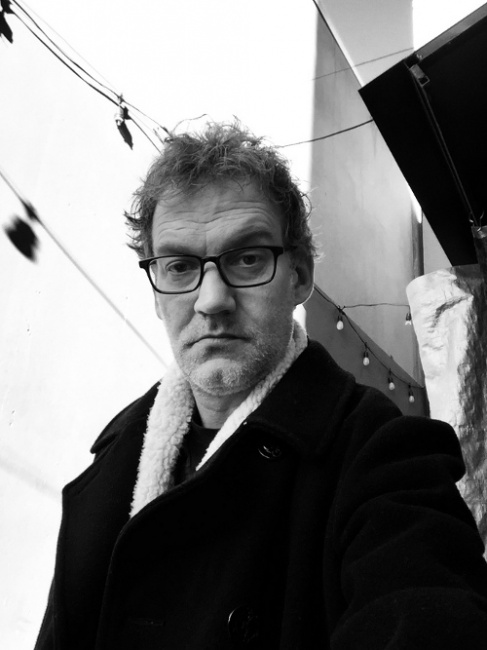 In Business 3x3, a business retailer or executive will share their experience with three things they've done right, three things they've done wrong, and what else they've learned along the way.
Dirk Wood has worked his way up the ladder to get right back where he started—Portland, Oregon.
Wood, one of the more recognizable characters in the comic book trade with his mop of unkempt hair and gravely voice, was raised in the Pacific Northwest, where his parents had a catering business.
"I was working for them from an early age, peeling eggs and chopping lettuce," Wood says.
Wood also did door-to-door sales in the tough Los Angeles neighborhoods of Pacoima and Compton, worked construction, washed dishes, and worked at a record store. Finally, he landed at Things From Another World, the comic store owned by Dark Horse Comics' Mike Richardson.
"I started off working in a store, which led to managing a store, which led to doing all the buying, then managing the whole chain," Wood says. "Then Mike poached me into Dark Horse."
After 16 years at Dark Horse Comics, Wood bopped over to up-and-coming IDW Publishing in 2010. Today, he's IDW Publishing's VP of marketing, and in 2017, he set up an IDW satellite office in Portland. Along the way, he's learned a lot...
THE GOOD
TAKE ADVANTAGE OF OPPURTUNITIES
"I've done a great job in the comic industry of taking advantage of opportunities when they've arisen," Wood says. "I took advantage of the job at Dark Horse at the right time, and had a great career there. I still have tons of great friends there."
Wood grabbed the next opportunity when it presented itself.
"I felt that I'd done just about everything I was going to do there, and IDW presented a new opportunity for me to grow, and do new things," he says. "They were very much up and coming at the time, and I saw, quite simply, an aggressive and smart company that looked like a great place to be."
Wood says he's happy for his path.
"I think I made the move to IDW at exactly the right time, and I think I opened the satellite office at the right time," he says.
LEAD BY EXAMPLE
Wood considers himself a hands-on guy.
"I think I've done good job of leading by example, especially in the trade show space," he says. "I ran [San Diego] Comic-Con for Dark Horse for about 10 years, and that's a really intense time. We've had the cast of
Sin City
there, the cast of
Hellboy
there, and 90 hotel rooms and 35 employees traveling by plane, and… that's a big job. It's big, complicated, and crazy."
Wood knows his performance at such events is out there for everyone to see.
"I think people were surprised when I took on that responsibility," he says. "I don't know that everyone saw me as a diligent worker at that point in my career, but after they saw me in action, they sure did. Trade shows are so public. You either succeed or you don't, and everyone knows it. You have to lead from the front."
TAKE IT SERIOUSLY
Again, gratitude is a key to Wood. He knows where he's been, and is grateful for where he is.
"I remember what it was like to wash dishes for a living," he laughs. "So when I got so lucky as to land in a creative industry, I never took that for granted. And I realized that it's work. I've seen a lot of people come and go in this industry, and the ones who tend to survive and flourish are the ones who treat it like a job, no matter how fun it is."
Wood says the best advice he can give any newcomer is as simple as "take it seriously."
"I've always taken it real seriously, and I do to this day," he says. "I think that's served me well."
THE BAD
TAKE ADVANTAGE OF EVERY OPPURTUNITY
So in the comic business, Wood is happy with grabbing his brass rings. In other areas… maybe not so much. "On the personal side, I've had multiple opportunities to step into the world of voiceover as a sort of secondary career and secondary income, and I have not made that happen," he says. "That's something I regret."
Once you hear him, you do not forget Dirk Wood's voice.
"It's kind of embarrassing, but someone once said it was 'honey wrapped in gravel,'" he laughs. "I don't know. Maybe there's something to that."
And at the end of the day, Wood thinks he perhaps could have been more aggressive.
"It's taken me about 25 years to get to where I'm at in this industry and I'm happy where I'm at, but I probably could have done a better job of seeking out opportunities, rather than letting them come to me," he says. "I think my trajectory has probably been slow in that department, though hopefully not wrong."
COMMUNICATE BETTER
Remember "hands-on?" There's a flip side to that.
"I am
not
the best communicator as a manager," Wood admits. "I do not do a great job of laying out my expectations ahead of time. I could be much more direct. And I do not do a good job of chasing people down for details after. When I ask someone to do something, I assume it's going to happen."
Wood says his technique "works really well when I've got great employees, but doesn't work nearly as well when I've got more challenging employees."
Bottom line: He recognizes it, and is getting there.
"I need to be better at chasing people down to make sure things get done," he says.
BECOME AN EARLY ADOPTER
Wood also realizes he needs to be better at using all the tools in the toolbox.
"I have never done a good job at adapting to technology," he admits. "My work and my career trajectory could have been better served if I was on top of technology, but I'm such a natural Luddite… I'm always the last guy to get my computer updated, and suddenly my Adobe doesn't work any more."
Oddly, Wood is future-looking, if not future-touching.
"Digital comics, I understand their importance, and one of the reasons I went to IDW was that I saw they were aggressive about the digital space, which I thought was smart," he says. "But on a personal level, I have no understanding of how it all works."
And again, Wood is looking to change.
"I can float by learning what I learn when I learn it, but if I were to get on top of it… I'm sure I'd be better served," he says. "That might be a new year's resolution: Get on top of technology."
AND WHAT ELSE?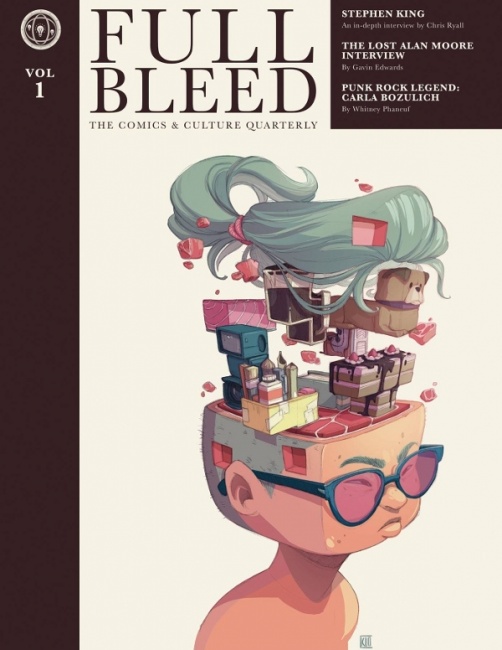 "The main purpose up here [in the Oregon office] is to launch
Full Bleed
, which is the 200-page hardcover comics-and-culture magazine that comes out in mid-January
"There were a variety of reasons for the move, both personal and professional. Ted [Adams] and I were just talking about the Portland 'scene,' how things were just blowing up here. And Ted was very aware of the fact that I was commuting every week for seven years. I was flying back and forth between Portland and [IDW's offices in] San Diego every weekend for seven years. My now-wife and her kids are here in Portland. So was spending weekends in Portland and weeks in San Diego, and that was a grind. I was getting burned out on traveling.
"The idea for the magazine coalesced around the election last year. Ted and I were talking and just sort of professed our semi-depression about the results and were talking about the state of literacy in America. And he said, 'Let's make a magazine. Print only, nothing to do with the Internet, something we'd want to read.' And it may be a fool's errand, but we decided 'let's go for it.'
"I feel super-blessed to be where I am. I'm working for what I feel is the best company in this business, and they've allowed me the freedom to create this crazy office that I'm in charge of. Things are pretty great."