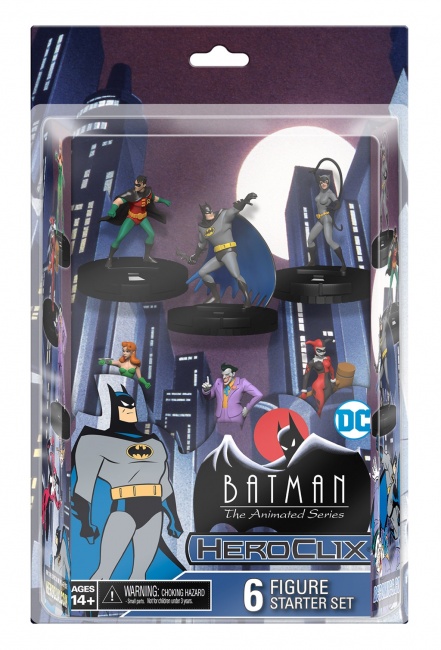 After more than 25 years, the distinctive characters and styles of the critically-acclaimed
Batman: The Animated Series
have come to WizKids'
DC Comics HeroClix,
in a new expansion scheduled to release in August.
DC Comics HeroClix: Batman the Animated Series will feature all-new likenesses of popular Batman characters, all with new dials; as well as a variety of characters taken from Batman: The Animated Series and other DC-inspired animated series: Justice League Unlimited, Batman Beyond, and the Super-Friends. Many of the characters in this set have never been given the Clix-treatment before, including Zeta, Leslie Thompkins, Maxie Zeus, Kyodai Ken, the Clock King, the Phantasm, Riddler's Robot Minotaur, and Apache Chief.
The Starter Set includes six figures: Batman, Robin, Catwoman, Harley Quinn, Poison Ivy, and the Joker, along with a HeroClix rulebook, a pair of double-sided maps, a "Power and Abilities" card, tokens, dice, and character cards. MSRP for the Starter Set is $24.99.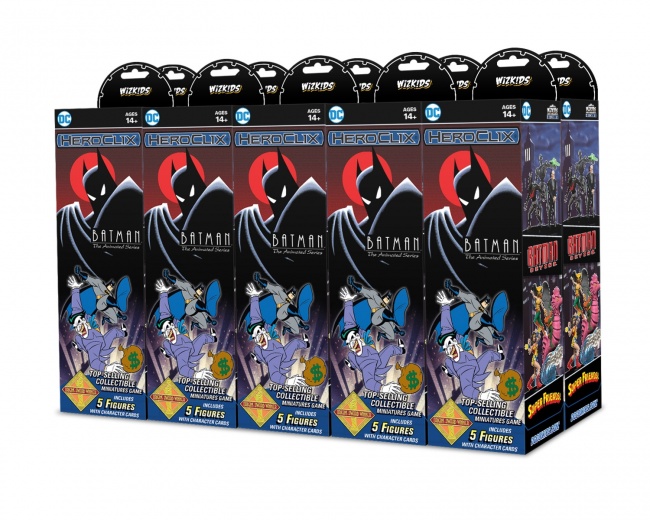 The rest of the new set will appear in the
DC Comics HeroClix: Batman The Animated Series Booster Brick
, which includes 10 booster boxes for the game. Each booster has five figures and five character cards. MSRP is $12.99 per booster.
A Dice and Token Pack will also be available, featuring two custom dice and six action tokens with images of the heroes and villains of Gotham. MSRP is $9.99.
To support the new release, WizKids is offering the DC Comics HeroClix: Batman The Animated Series Release Day OP Kit. Each kit includes three copies of a special limited-edition figure of the Penguin and his character card, along with five copies of a double-sided map and an instruction sheet. Like other promotional items, the Release Day OP Kit is marked "Not for Resale," and stores are limited to a maximum of three kits.
WizKids recently released a set featuring Wonder Woman for the game (see "More Wonder Woman for 'HeroClix'").