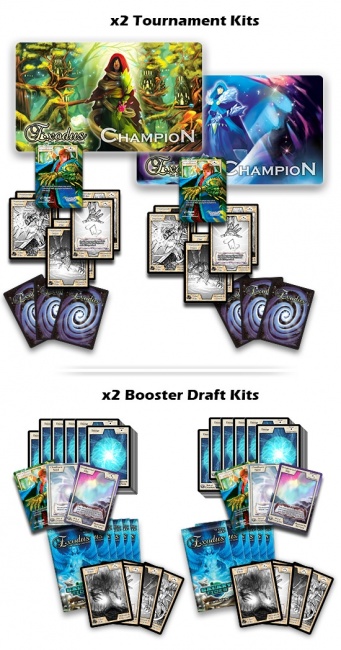 Existence Games will launch official organized play for its
Exodus Trading Card Game
in February. The company will also be launching an emissary program for individuals to demo the game and run events.
The quick, family-friendly, fantasy trading card game has recently garnered industry attention (see "'Exodus' by Existence Games"). The official organized play will include sanctioned in-store events for both Constructed and Booster Draft formats. Participants will be awarded both Lifetime Points and Season Points toward the invitation-only Championships. Players will compete for exclusive prizes including Champion Playmats, artist-signed cards, and limited-edition sketch cards.
Retailers may order a Tournament Kit which will offer a 1 month supply of materials to host 2 Tournaments and two Booster Drafts to help promote the Exodus game. Each "Tournament" set includes 12 entry promo cars, 1 champion playmat for 1st place, 3 sets of (2) LE sketch cards for top 3 placers, and 3 randomized raffle cards. Each "Booster Draft" set includes 6 20-card energy decks, 6 sets of 3 entry promo cards, 6 Galaxy Tides booster packs for top 4 and 4 LE sketch cards for the top 4. MSRP is $50.00. The kits also include a tournament/draft sheet listing materials, how to distribute them, and basic rules for running events.
Separate Championships will be held for both Constructed and Booster Draft tournaments, each with its own qualifier circuit each season. Competitive seasons will span 1 year (from summer to summer) minus two weeks to play out additional player rewards and reset Leaderboards. The first season will be a "half-season" lasting 6 months to serve as an Open Beta.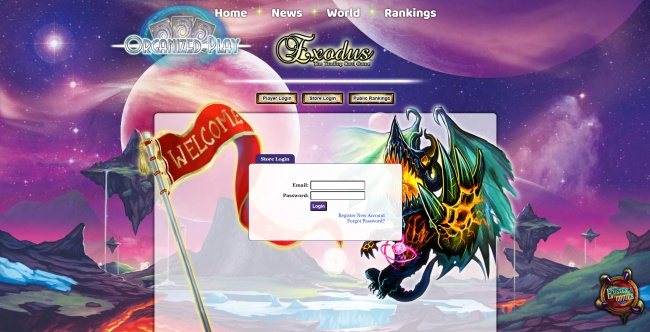 Retailers (or Tournament Organizers) can submit event results on
Exodus
Organized Play website by logging in to their store dashboard.
The Exodus Emissary program is a volunteer program looking for individuals familiar with Exoducs TCG to take the game to their FLGS to run Demo Days and/or Tournament and Booster Draft Events. Emissaries will have the opportunity to earn re-exclusive items (lanyards and Promo cards before official release). Interested parties can submit an application on the game's website.
See multiple card and website images in the gallery below.