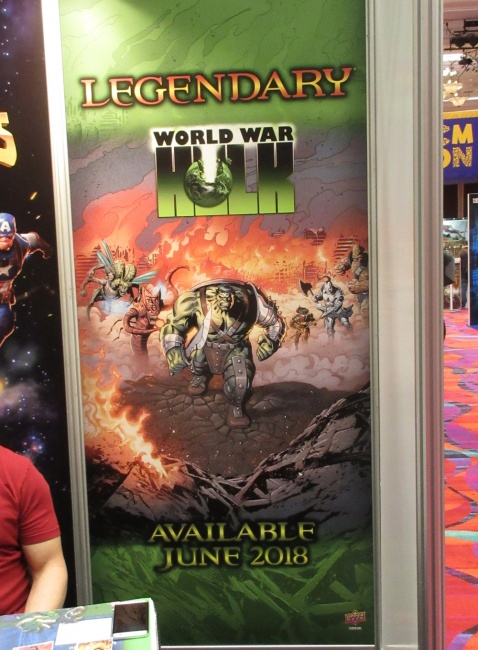 At the GAMA Trade Show, Upper Deck was showing off a banner for its next large box set for the
Marvel: Legendary
Deck Building Game
, and shared information on other upcoming releases.
Legendary: World War Hulk
will be a 400-card set releasing in June. By popular demand, She Hulk will make her debut as a Hero card and a new mechanic allows Heroes to Transform and level up into attacking characters. MSRP is $40.00.
The new
Marvel Legendary – Spider-Man Homecoming
set was well received last year (see "
The MCU Comes to 'Marvel: Legendary Deck Building Game'
") and now Upper Deck will release a smaller box core set this summer composed of movie stills from the early Marvel Cinematic Universe movies through the 2012
Avengers
feature. The set is fully compatible with other
Legendary
releases, and as a small box set, will contain 3 Masterminds instead of the normal 4. MSRP is $50.00.
The next arc for the popular
VS System 2PCG
is set to begin in May, and this time it will focus on the Marvel Cinematic Universe. The May release will be a 200 ct set, with smaller packs releasing in June and July (see "
New 'VS System' Release Format Finalized
").