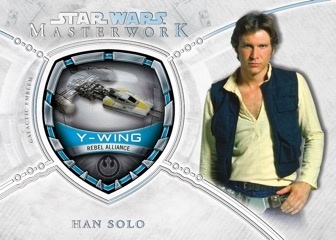 Topps will release two high-end trading card sets exclusive to hobby shops in September:
Star Wars Masterwork
and
WWE Legends.
The 2018 Topps Star Wars Masterwork release is a high-end collector card set which includes 100 premium 72 pt base cards; new short prints to chase; wood, rainbow foil, canvas, gold metal, printing pates, and metal insert cards; new autograph signers; autograph book cards; and new relic cards. The base cards will include the most notable creatures, characters and droids from across the entire Star Wars saga. There are 25 short print character cards to chase, and three new insert sets: History of the Jedi, Super Weapons, and Powerful Partners. Autograph cards include over 40 actors from the saga, and there are dual autograph, triple autograph cards, and even quad autograph book cards to collect. Hit cards include autographs, commemorative patch cards, sketch cards, stamp cards, commemorative plastic patch cards with parallels, and more.
Each Mini Box includes 2 Star Wars Masterwork Base cards, 1 Base Card parallel, 1 insert card, 1 guaranteed hit card. There are four Mini Boxes per Outer Box, and eight Outer Boxes per case. Two autographs are guaranteed per Master Box.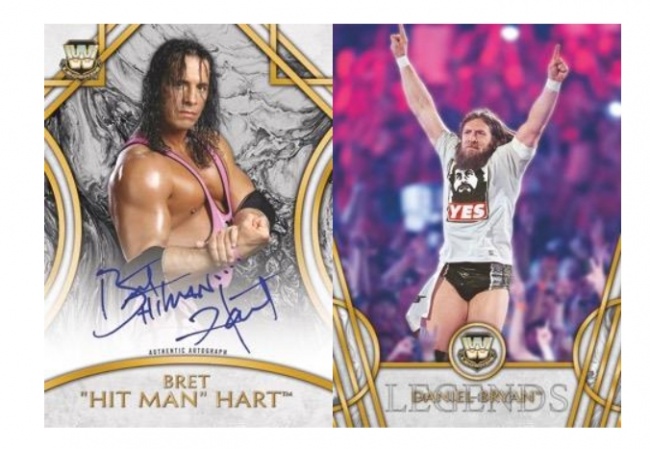 The
2018 Topps WWE Legends
release will include 100 base cards, including 20 Identity Crisis subset cards featuring WWE Legends who have reinvented themselves over the years; 70 Men's Division WWE Veterans, Legends and Hall of Famers; and 10 Legends of the Women's Division subset cards featuring WWE Veterans, legends and Hall of Famers from across the history of the WWE. Autograph Cards will include Men's and Women's Division WWE Veterans, Legends, and Hall of Famers. Dual, triple and tribute cut signatures autograph cards will also be available. Additional autograph cards include Shirt Relic Cards, Autograph Dual Relic Cards, and Autograph Commemorative WWE Hall of Fame Ring Cards.
Each pack contains 5 2018 WWE Legends cards. There are six packs per mini box, and two mini boxes per master box. Each case includes eight master boxes. One autograph and two hits per mini box are guaranteed. Four total hits are included in each master box – with 3 autographs guaranteed.
Other Topps Star Wars trading card releases due this summer can be viewed here: "'2018 Star Wars Galactic Files,' and 'The Walking Dead: Season 8'."