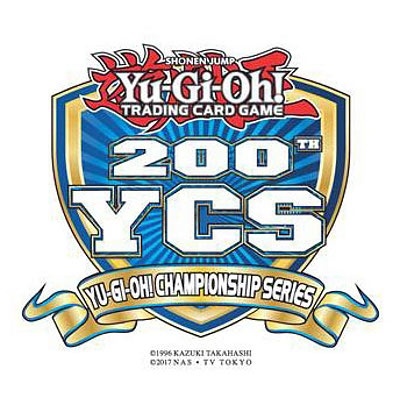 To celebrate the 200th
Yu-Gi-Oh!
Championship Series, Konami is scheduling events in three cities, all during the weekend of September 22-23. Events will be held in Columbus, Ohio, Mexico City, Mexico, and Utrecht in the Netherlands.
All three events will feature a two-day long main event, with a single duelist in each region claiming the title of 200th YCS Champion as well as a brand-new Ultra-Rare YCS Prize Card. The winners all receive paid travel and accommodations for the 2019 World Championship Qualifier. In addition, 2nd and 3rd place finishers receive a Super-Rare version of the YCS Prize Card, the top 8 players at each event win a
PlayStation 4
gaming system, and the top 32 each receive an exclusive playmat.
An exclusive Participation Game Mat will be given to all participants at the event, while supplies last.
Pre-registration for the Columbus, Ohio event, which will be held at the Greater Columbus Convention Center, runs from 3 to 7 pm on Friday September 21. Pre-registered participants will receive
Yu-Gi-Oh!
branded Attribute Dice featuring the 200th YCS logo. Events begin at 10 am Saturday.
A variety of other events will be held alongside the main tournament, including a Dragon Duel tournament, 2019 Regional Qualifiers, Ultimate Duelist Series Qualifiers, 3 vs. 3 Team Dueling, ATTACK OF THE GIANT CARD!!, Win-A-Mat, Sealed Structure Deck, Battle City,
Yu-Gi-Oh!
Day, Duelist League, and
Yu-Gi-Oh!
School Tournament events.
The voice actor Darren Dunstan, who voices the character Maximillion Pegasus will also be attending the event for autograph sessions and to participate in the Ultimate Pegasus Challenge event.