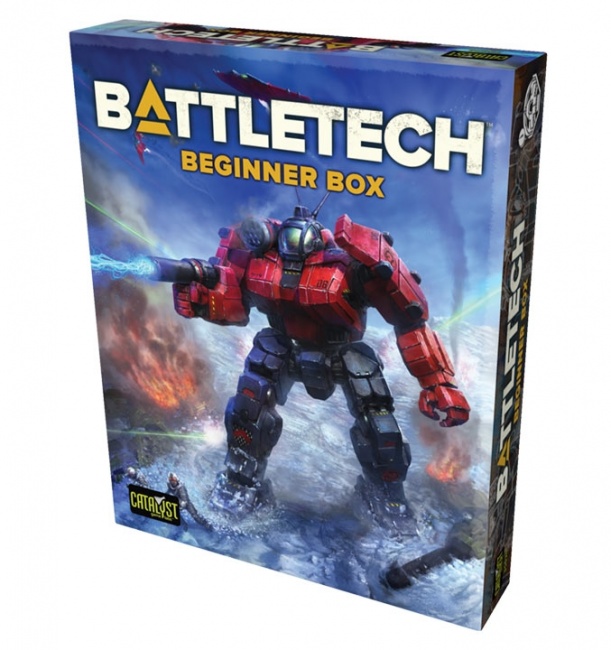 BattleTech
, the venerable table top game of giant robot battles, is getting an updated base set when Catalyst Games releases two new boxed sets in Q3: the
Battletech: Beginner Box
and
BattleTech: A Game of Armored Combat
.
The
Beginner Box
is designed as a way to ease new players into the game, while still offering material for experienced players to enjoy. For new players, the set offers a quick-start rulebook and ready-to-go Battlemechs. Meanwhile, for experienced players, the set has an all-new map for players to battle over and a novella that will be available only in this set.
This boxed starter set comes with everything needed to play the game, including two pre-assembled, unpainted Battlemech miniatures - a Griffin and a Wolverine - a 24-page quick start guide, 8 record sheets, 4 pilot cards, a paper map, and 2 dice, along with a punchboard sheet with additional Battlemechs, a 4-page
Instant Guide to the Inner Sphere
, and a 48-page novella written by Willian H. Keith, Jr. MSRP is $19.99.
The
BattleTech: A Game of Armored Combat
boxed set offers a more complete experience, with a more detailed rule book, more in-depth background about the
BattleTech
setting, more Battlemechs, and materials for larger battles. Like the
Beginner Box
, this set will also feature new material to attract existing fans, including new maps and an exclusive novella.
This boxed set includes 8 pre-assembled, unpainted miniatures, a 48-page rulebook, a 16-page record book, 8 Pilot cards, 8 Alpha Strike cards, 2 reference sheets, 2 double-sided mapsheets, additional punchboard Battlemechs and terrain, 2 dice, a 16-page background book, and a 48-page novella by William H. Keith, Jr. MSRP is $59.99.
Click on the Gallery below for images of some of the components from the new sets.