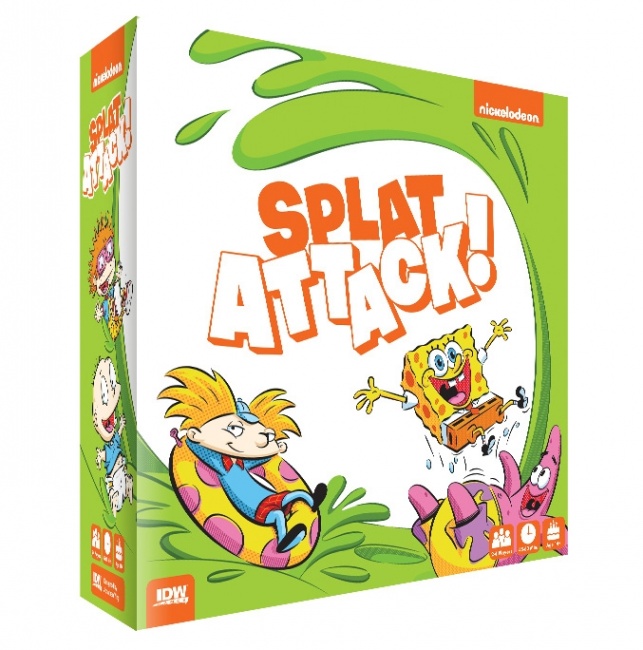 Iconic cartoon characters from Nickelodeon are the feature of
Nickelodeon's Splat Attack!
board game, releasing this November from IDW Games.
In Nickelodeon's Splat Attack!, cartoon characters lifted from classic shows like SpongeBob Squarepants, Invader Zim, Hey Arnold!, and Rugrats! are dropped into a food court, where they proceed to duke it out in a food fight battle royale to prove who is the "coolest" team. Each player picks their own team of characters and assigns them "Cool Points," then use cards representing various food items to "splat" their opponents with messy foodstuffs. Getting splatted can not only cost characters their Cool Points, but taking out an opponent can award the attacker coveted Golden Cool Points. When the supply of Golden Cool Points runs out, the team with the most Cool Points left wins.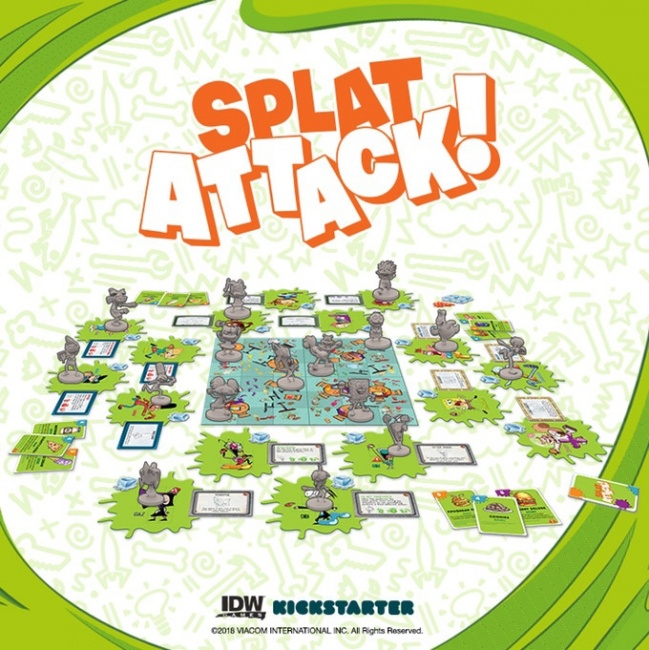 Nickelodeon's Splat Attack!
was designed by Jonathan Ying (
Star Wars: Imperial Assault, DOOM the Board Game
) and features artwork by comic artist and animator Troy Little (
Chiaroscuro, Angora Napkin
). The game includes 16 unpainted plastic miniatures with matching character boards, 56 cards, 231 tokens, 4 game boards, and 8 custom dice. It was designed for 2 to 4 players, ages 14 and up, and it plays in a little under an hour. MSRP is $60.00. A $20.00 MSRP
Reptar Rampage
expansion will release at the same time as the base set.
IDW is funding the production of Nickelodeon's Splat Attack! through a Kickstarter campaign that has attracted $91,923 in pledged support from 1,252 backers (an average of $73.42 per backer) with eight days remaining. The campaign includes a retailer-only package that includes six copies of the game and the expansion, along with six Kickstarter exclusive Teenage Mutant Ninja Turtles expansions and all stretch goals.
Splat Attack! will follow another NickToon inspired IDW Game releasing in September: the Invader Zim Doomsday Dice Game (see " 'Invader Zim Doomsday Dice Game'").