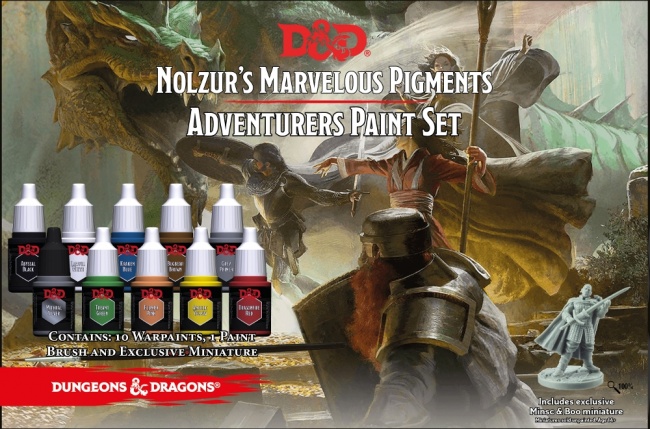 Gale Force Nine is now sharing more details on upcoming licensed
Dungeons & Dragons
products that were previewed at New York Toy Fair this year (see "
New 'Dungeons & Dragons' Game on the Way
"). Releases for the new paint set, named
Nolzur's Marvelous Pigments,
were the first to be shared.
The paint sets are an accompaniment to GF9's licensed Dungeons & Dragons Collector's Series resin miniature line. The sets are aimed at people that collect D&D models, but have never painted before. The paints are renamed versions of existing hues from The Army Painter line, and the releases come with a chart that directs customers to the correct hues at local game stores when they need more.
Nolzur's Marvelous Pigments Adventurers Paint Set includes 10 paints, a paintbrush, and a pre-assembled Minsc & Boo miniature. MSRP is $25.00.
The Monster Paint Set includes 36 Army Painter Warpaints and a pre-assembled Owlbear miniature. MSRP is $80.00.
Nolzur's Marvelous Brush Set includes three specially selected Army Painter Paintbrushes: A Basecoat Brush, Detail Brush, and Dry Brush. MSRP is $12.00.
All three are planned for August release.
See images of all products in the gallery below!