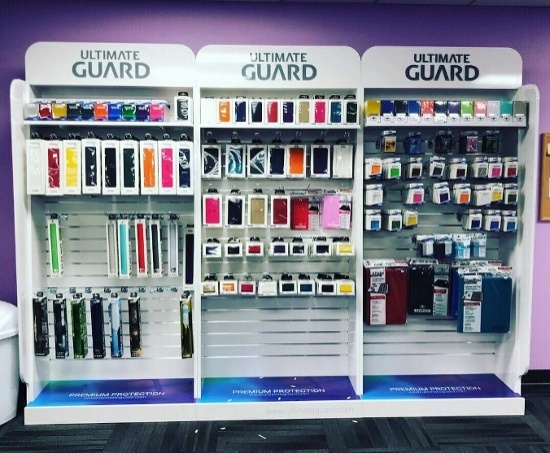 Heo, a distribution and branded collector supplies company based in Herxheim, Germany, opened in the U.S. earlier this year and is now expanding its distribution clients in the Americas for its Ultimate Guard collector supply line. Most recently, PHD Distribution and sister company Coqui Distribution (which services Latin America), added the Ultimate Guard line this month. Other distributors carrying the line include Lion Rampant and Universal Distribution in Canada, GTS Distribution and Southern Hobby in the U.S., and Devir Americas and Brazil in Latin America.
The Ultimate Guard line includes trading card, board game, comic, collectibles, and miniatures collecting supplies. Heo is offering a store fixture free to retailers with purchase through its distributors.
In Europe, heo operates locations in Germany, United Kingdom, France, Italy, and Spain; and in Asia, operates in Hong Kong and Japan. The company sells over 20,000 licensed pop culture products to European chain stores, comic and hobby shops, bookstores, toy stores, video game and media retailers, exhibitors, and e-commerce retailers. In the U.S., the local office is "focused exclusively on company-owned brands," Patrick Hildebrant, the CEO of heo America told ICv2.
Hildebrant joined heo last October. Prior to joining heo he had a stint as VP-Business Operations at print-on-demand manufacturer Lantern Press. Hildebrant also had 13 years at Wizards of the Coast, finishing in 2013 as Director of Global Store Planning and Operations. Hildebrant has recently hired Cedric Phillips, Online Content Coordinator (and voice of the Star City tour) for Star City Games, as Community and Events Manager for Ultimate Guard.