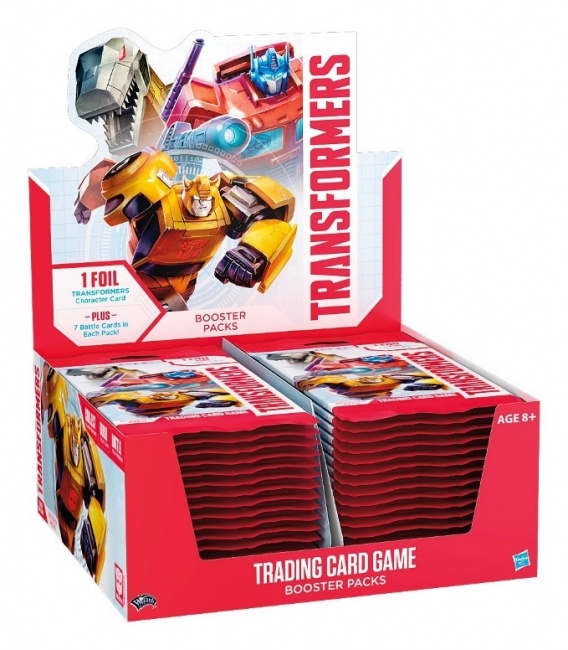 Hasbro, Inc. and Wizards of the Coast shared details and images for its upcoming
Transformers Trading Card Game
which will launch in the United States on September 28. Special
Transformers Trading Card Game Convention Edition
packs will be available for purchase at San Diego Comic Con and Gen Con.
The
Transformers TCG
is a fast, easy-to-learn card game for two players. Each player builds a team of Transformers characters, and powers them up with battle cards. The character cards are extra-large – twice the size of standard playing cards, and can be flipped over to transform from robot mode to alt mode. The battle cards feature Action and Upgrade cards to augment the character cards.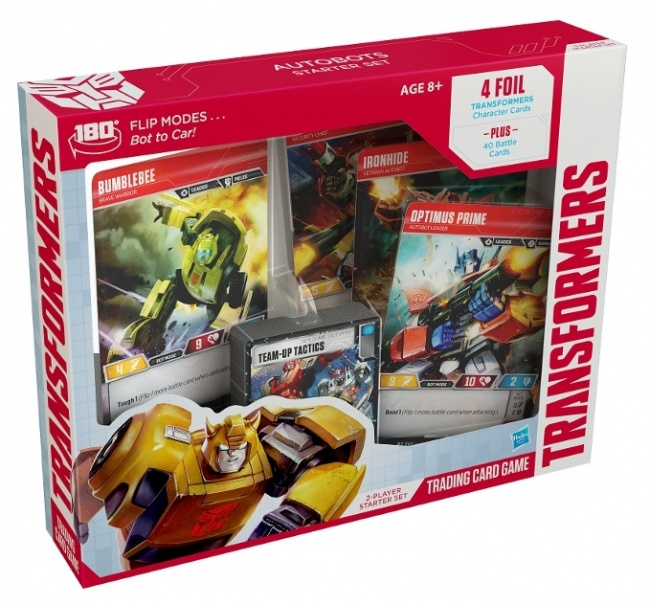 The first releases will be the
Autobots Starter Set
and the
Transformers Trading Card Game Booster Packs.
The
Autobots Starter Set
contains all the cards needed for two players to begin. It will include foil character cards of Optimus Prime, Bumblebee, Ironhide, and Red Alert as well as 40 battle cards, damage counters, and a rule set. MSRP is $14.99.
Transformers Trading Card Game Booster Packs
will include character cards and battle cards.
Booster Packs
are packaged 30 per
Booster Box.
Each pack includes 1 foil character card and 7 battle cards, from a pool of 40 character cards and 81 battle cards. (Chance of Super Rare Transformers character card 1:79 booster packs. Most booster packs contain 1 Rare battle card.) MSRP is $3.99/ pack.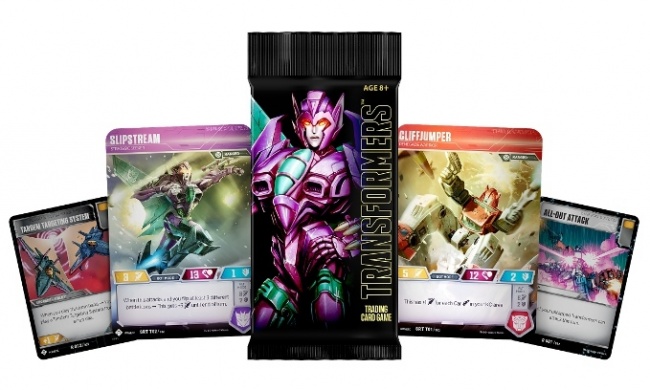 Transformers Trading Card Game Convention Edition
packs will include two character cards (Cliffjumper – Renegade Warrior, Slipstream – Strategic Seeker) and two battle cards (All-Out Attack and Tandem Targeting System) not available in the
Starter Set
or
Booster Packs.
If any are still available after the conventions, they will be put on sale online at the Hasbro Toy Shop.
"The TCG format lets us pull Transformers characters from across the brand's massive history. From Bumblebee to Sunstorm – the game is digging deep into the
Transformers
lore," said Drew Nolosco, Transformers Trading Card Game Brand Manager. "We can even focus on different aspects of the same character. Optimus Prime, for example, is immensely powerful in combat, but he's also a master tactician. The
Transformers TCG
will let players explore the characters' depth through engaging and tactical gameplay."
See more images in the Gallery below.