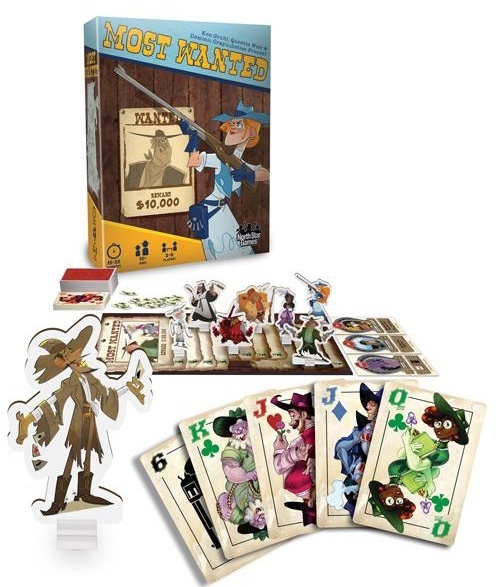 North Star Games will release
Most Wanted
to trade on October 1, with a prerelease at Gen Con.
Designed by Ken Gruhl & Quentin Weir (
Happy Salmon
) and Dominic Crapuchettes (
Evolution
), the game is a wild-west poker-style card game that involves strategic risk-taking. Players compete to rob stagecoaches and trains, but if the cards aren't played right, they'll end up in jail with no money for bail. At which point they can repent and go to church, or actually do an honest day's work, but there's no infamy or loot in that. The first player to get to 13 points wins.
The box includes 1 score board, 72 playing cards, 8 player tokens with standees, 63 money bag tokens, 6 action tiles, and a rulebook. The game is for 2 – 8 players, ages 10 and up, and plays in 15 - 30 minutes. MSRP is $34.99.
Click Gallery below for full-size images!