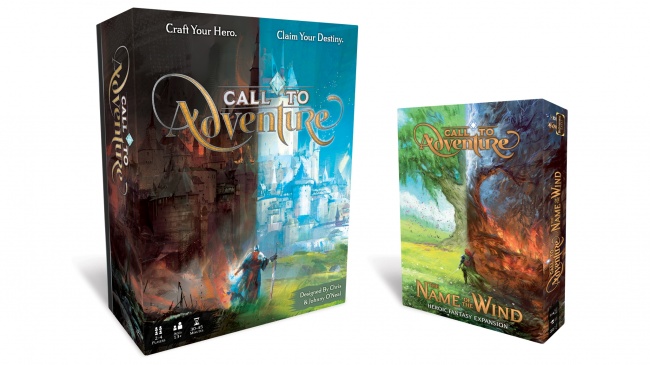 Brotherwise Games has fully revealed its upcoming fantasy adventure board game
Call to Adventure
, scheduled to release in November.
Inspired by character-driven fantasy novels such as Patrick Rothfuss' The Kingkiller Chronicles, Call to Adventure challenges players to create an epic story for their character through a series of choices driven by cards, selecting between rewards that can be collected immediately, or to gain potential for greater benefits later on. Random elements in the game are resolved with custom-made "Runes" instead of dice. In the end, the character with the greatest Destiny, gained through triumph, tragedy, and story awards, wins the game.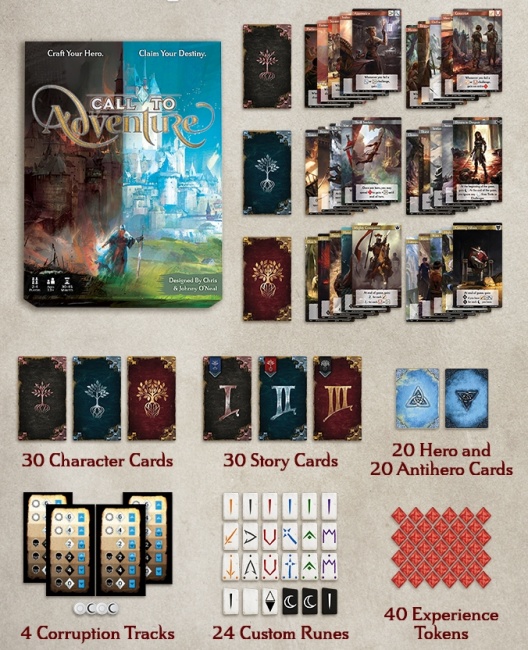 Call to Adventure
was created by Chris and Johnny O'Neal (the creative duo behind
Boss Monster
). The game will include 130 cards, 4 corruption tracks, 24 plastic rune tokens, and 40 experience tokens. It is intended for 2 to 4 players. MSRP is $40.00.
Click on the gallery below to see images of some of the game components.
Brotherwise also announced the first expansion set for the game, The Name of the Wind, which features 75 additional cards with characters and themes taken from Patrick Rothfuss' Kingkiller Chronicles.
Production of Call to Adventure is being funded through a Kickstarter campaign which, as of this writing, has attracted $40,787 in pledged support from 626 backers (an average of $65.15 per backer). The campaign does include a retailer-only backer option that includes five copies of the Kickstarter version of the game. This version will feature some exclusive alternative artwork. Backer fulfillment is scheduled for November, with release into the trade to follow.
Chris O'Neal has been writing a column for ICv2 chronicling the development of the game from the publisher's perspective (see "Making the Game"). The most recent installment of O'Neal's column can be found here: "Making the Game: The Dreaded Game Delay."