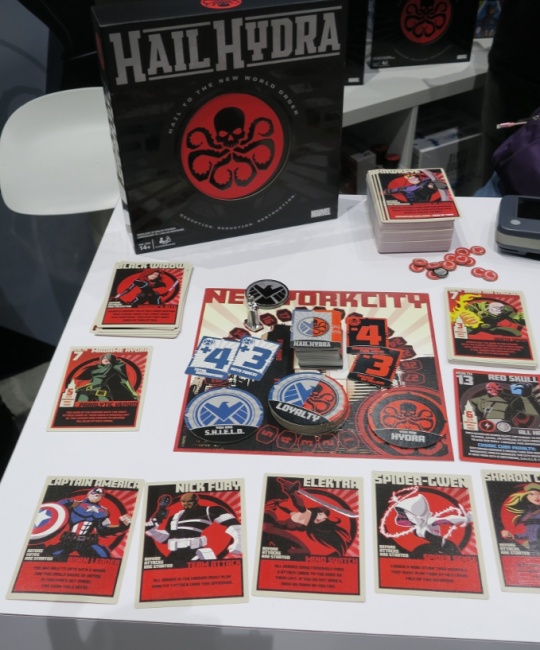 Spin Master was showing off some licensed Marvel games at San Diego Comic-Con, as well as a new adult party game.
Spin Master game designer Nick Metzler explained the game Hail Hydra. "You are a group of S.H.I.E.L.D agents trying to defend New York City from an onslaught of villains," he said. "Now, that would be very easy if you all were S.H.I.E.L.D. agents. Some of you are secretly Hydra agents sabotaging the missions.
"At any point in time, if you're a Hydra, you can flip over your loyalty disc and announce, 'Hail Hydra,'" he continued. "Then you can actively destroy the city with the villains." The game is for 5 – 8 players, ages 14 and up, and plays in 45 -60 minutes. MSRP is $30.00. Release is planned for August 1.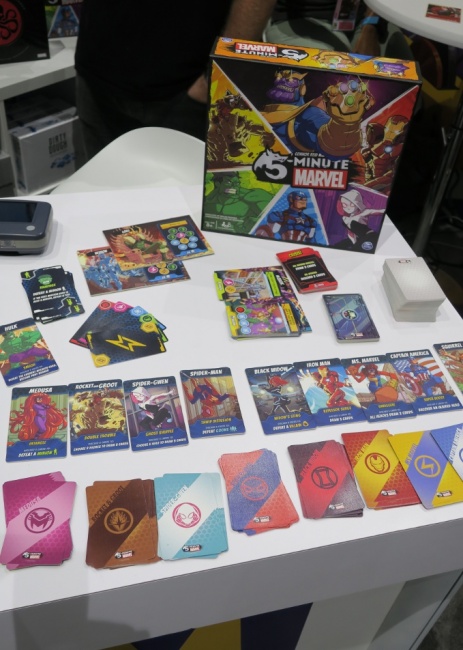 Metzler also explained another Marvel-based game:
Five Minute Marvel.
"It is a real time, five-minute cooperative game where the group of your heroes are all using symbol cards to try and defeat a stack of villain cards. If you defeat the entire stack and then the boss that comes after it within five minutes real time, you win," he said. "If you can't do it in five minutes, you lose. It is a sequel to another game called
Five Minute Dungeon.
"
There are six bosses players can face in different rounds. The game is for 2 – 5 players, ages 8 and up, and plays in five minutes. MSRP is $25.00. Release is planned for August 1.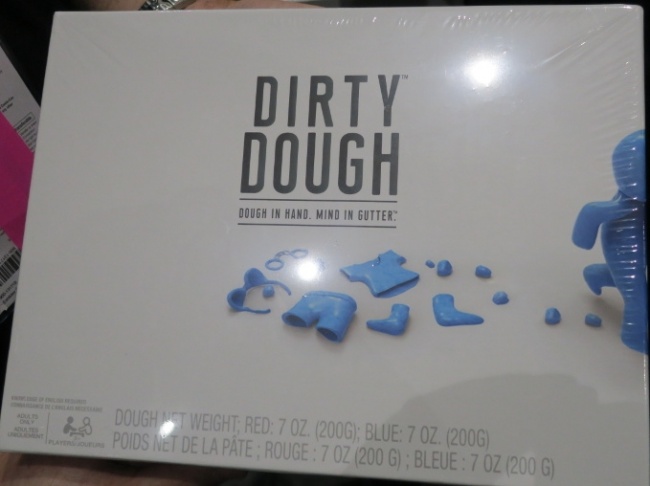 Spin Master Senior Brand Manager Ryan Johnston was showing off a new adult party game that recently went on sale at Amazon and Target. "
Dirty Dough
is all about dough in hand, mind in gutter," he explained. "This is an adult party game where you have to sculpt raunchy prompts and make it out of dough, and then the other players have to guess what you're making. It can be team versus team, or it can be, 'Hey, let's just all have fun with the party. I'm gonna sculpt something, you're all gonna try to figure it out.'
"If you are playing competitively, there are five dirty prompts you have to fulfill in order to win the game," Johnston continued. "It's one-handed sculpting, two-handed sculpting, eyes closed. There's sexy mannequin, where you're sculpting on your partner's body, and then there's dough down throwdown, which is where you're doing team versus team trying to figure it out first." The game is for three or more players and MSRP is $19.99.