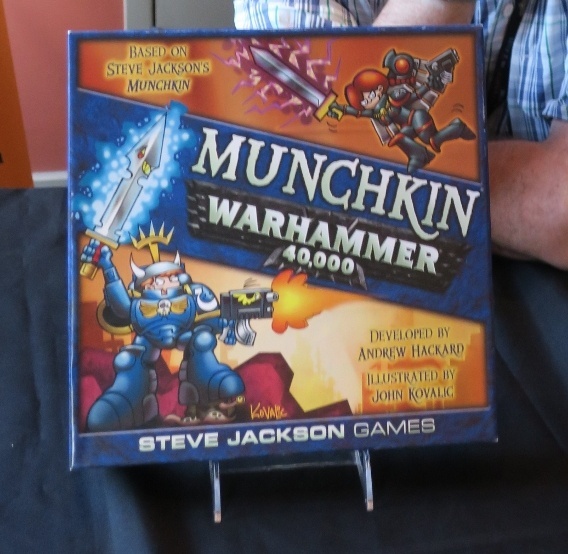 At Gen Con, Steve Jackson Games announced
Munchkin Warhammer 40,000
, a new Deluxe format product releasing in 2019.
The product was unveiled at the Munchkin Tavern last night, where popular series artist John Kovalic was meeting fans for a signing.
Munchkin
Line Editor Andrew Hackard was also on hand to sit down with ICv2 to share extra information about the product.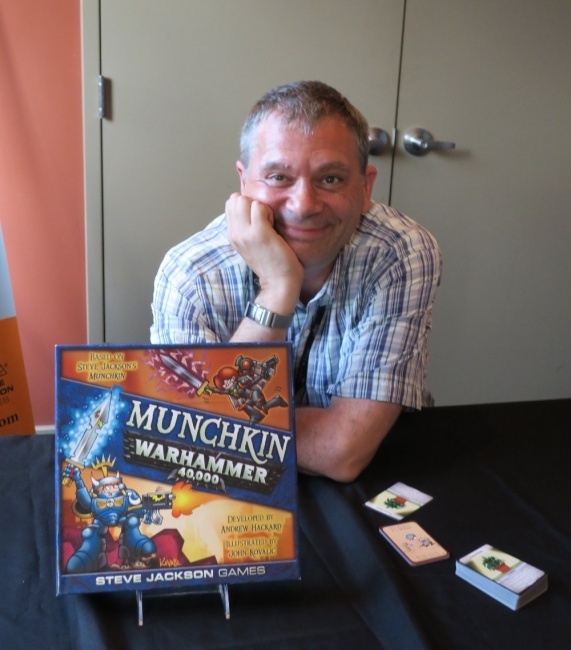 "Games Workshop was wonderful to work with," Hackard said, pleased at how quickly the licensor approvals came in. Kovalic, a hardcore
Warhammer 40,000
fan for the majority of his life, was gleeful to spin the franchise into the Fourth Wall that is
Munchkin
art and harvest special somethings from
Warhammer's
deep lore.
In
Munchkin Warhammer 40,000
players choose an army (Ultramarine, Necron, Aeldari, Ork, Death Guard, or Tyranid) and wade in to the dark apocalyptic future where they will meet Sloppity Bilepiper, a Horror of Tzeentch, and Mortarion. There are Chaos Monsters as well, and they stack – just like the undead. Kovalic shared memories of frequenting the game store in Hammersmith, London in the late 1970s that would become the first Games Workshop store. Kovolic has amassed a respectable collection over the years, and freely admitted his favorite army is the Orks.
The
Munchkin Warhammer 40,000 Deluxe
release will include 168 cards, a rulesheet, custom die, and a mounted level tracker. MSRP is $29.95. It will be followed by two 112-card expansions ($19.95) later in the year.