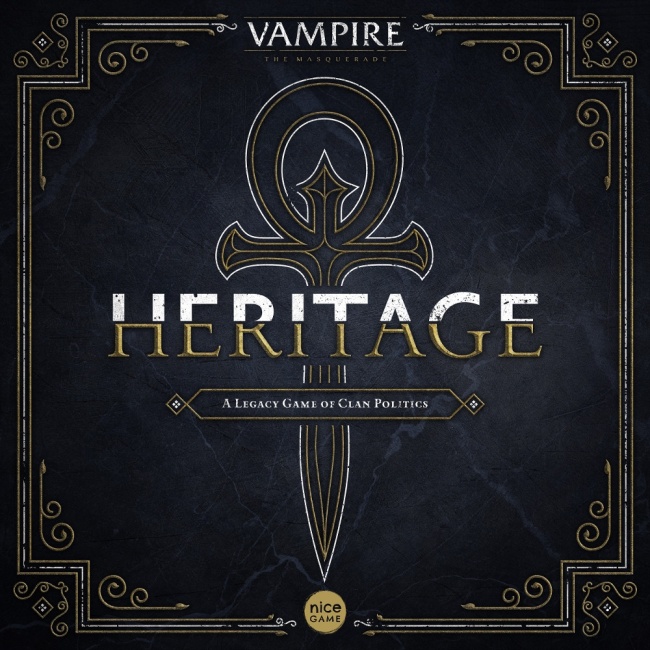 White Wolf Entertainment has teamed up with Germany's Nice Game Publishing to produce a legacy-style board game set in the world of the iconic role playing game
Vampire: The Masquerade
. The new game, titled
Vampire: The Masquerade – Heritage
, is scheduled to release in October 2019.
Heritage
will cover a span of nearly 700 years of vampire "history" in the game world, with players managing the bloodlines and immortal personalities of their clan as they navigate a mix of real-world and fictional events, manipulating both human history and vampire society as they do so, while trying to avoid the attention of the Inquisition. During play, they can turn mortals into vampires, granting them new abilities, but those abilities are unknown until the character is turned. To keep these abilities secret, character cards for mortals will be pre-sleeved, and can be removed from the sleeve and flipped to reveal their vampiric powers. Each player's clan also has their own unique "intrigue cards" that can change the rules of the game in a way that benefits that clan.
Click the Gallery below for a sampling of character artwork from the game.
After each game in the legacy sequence, players can record their achievements in their own "timeline" as well as adding newly turned vampires to the pool, where they can be altered further in later games. From game to game, the players will navigate history through the use of historic mission cards, unlocking new resources, characters, and challenges as they move from one era to another.
Heritage
is designed for 2 to 4 players, playing a series of games that each last about half an hour. A demo version of the game will be on display at the
Spiel
game fair in Essen, Germany this October. The company plans to launch a crowdfunding campaign to fund production starting in early 2019, with a premiere planned for next year's
Spiel
fair.
The fifth edition of the
Vampire: The Masquerade
game is releasing this year (see "
Preview: 'Vampire: The Masquerade 5th Edition'
").