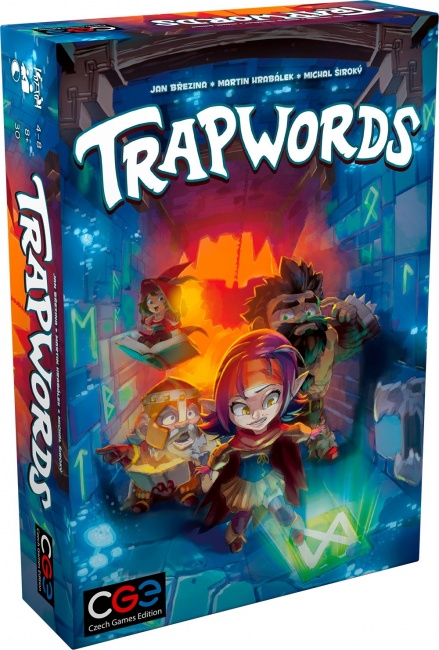 Fantasy and words are mixed in the upcoming
Trapwords
, premiering at
Spiel
from Czech Games Edition.
Trapwords
takes its inspiration from the classic word game
Taboo
with an added twist. The players form two teams, with a member of each team giving clues about a secret word that the other members of their team must guess. But the opposing team gets to choose a number of secret "trap words" that their opponents cannot use as part of their clues, without informing them until they trigger a trap by using a forbidden word.
Thematically, the game presents a fantasy dungeon that the players are attempting to navigate, evading various traps and curses. As they delve deeper into the dungeon, their opponents get to place more and more trap words in their way. If a team can progress far enough, they must face the dungeon "Boss" to win the game. The game comes with two sets of cards, one featuring regular words, the other words inspired by the game's fantasy theme.
Czech Games Edition will release the game at the
Spiel
game fair in Essen, Germany on October 25, with release into the trade, including North America, following the show. The game is playable by two teams, and takes about half an hour to play. MSRP is $19.95.
Trapwords
was created by a trio of new game designers, Jan Brezina, Martin Hrabalek, and Michal Siroky.
CGE's flagship word game
Codenames
continues to prove exceptionally popular, topping ICv2's list of top-selling cards games last spring (see "
Top 10 Hobby Channel Card/Dice Games--Spring 2018
").