Steve Jackson Games has released info for its upcoming launch of the
Munchkin Starfinder
card game. The
Munchkin Starfinder
base game, the
Munchkin Starfinder 2 – Far Out
expansion, and the
Munchkin Starfinder I Want It All!
boxed set will all release in October.
Munchkin Starfinder
combines themes, characters, and aliens from Paizo Inc.'s
Starfinder
role playing game with the wacky back-stabbing action of Steve Jackson's
Munchkin
. The game cards will feature the same card backs as the previously-released
Star Munchkin
line, making the
Starfinder
titles compatible with the earlier game. It was developed by
Munchkin
Line Editor Andrew Hackard and features artwork by Howard Tayler (artist on the
Schlock Mercenary
web comic).
The
Munchkin Starfinder
base game will be a 168-card stand-alone game that also includes 1 custom 6-sided die. It is intended for 3 to 6 players, ages 10 and up. Games take between 1 and 2 hours to play. MSRP is $24.95.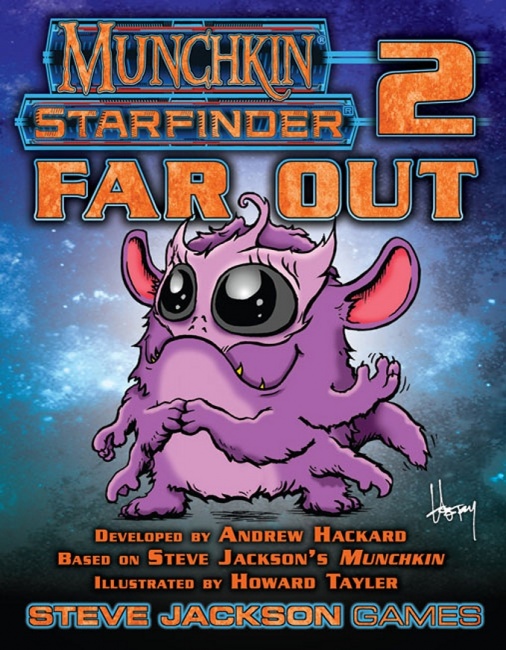 The first expansion set for the game,
Munchkin Starfinder 2 – Far Out
, will also release in October. This set adds 56 additional new cards to the game, including new monsters, new ships, and new weapons, with a focus on the villainous Swarm. MSRP is $11.95.
Also available will be the
Munchkin Starfinder I Want It All!
boxed set, which comes with both the base game and the expansion, as well as all of the stretch goals from the game's Kickstarter campaign. The items include:
Munchkin Starfinder
,
Munchkin Starfinder 2 – Far Out
,
Space Goblins
,
Hero Pack
,
The Swarm, Credsticks, Drift Dice, Kill-O-Meter, Star Field, Blank Card Pack,
a poster, 2 exclusive
Munchkin Starfinder
cards, 2
Munchkin Starfinder
bookmarks, and an "I Got It All!" certificate. In classic
Munchkin
style, the
I Want It All!
box itself acts as a game component with its own exclusive rule. MSRP is $99.95.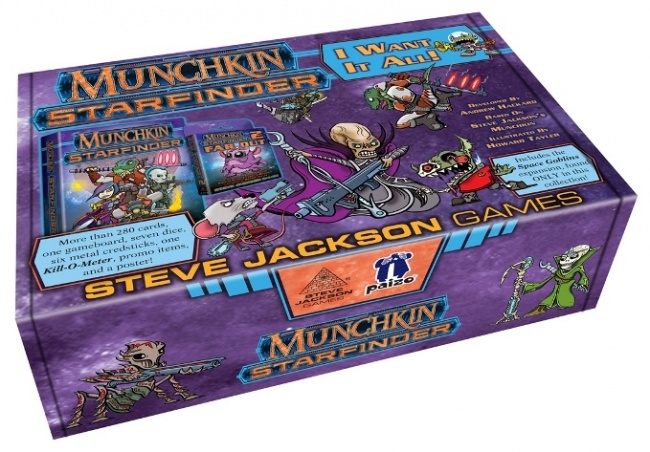 The game was announced last year (see "
Paizo's 'Starfinder' Invades 'Munchkin'
"), and the company acquired funding for the project through a Kickstarter campaign that attracted $84,326 from 1,299 backers (an average of $64.92 per backer). The release was originally scheduled for May, but Steve Jackson announced earlier this year that it would not launch until October (see "
Steve Jackson Games' News: Upcoming 'Munchkin CCG' and 'Munchkin' Releases
").