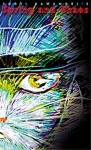 Tokyopop's first anime release, Shoji Kawamori's Spring & Chaos debuts next week. The company, which began by publishing English language manga editions of Sailor Moon, Cardcaptor Sakura, and Harlem Beat has branched out to include anime soundtracks (see 'Tokyopop To Release Anime Soundtracks'), and now anime videos (as well as Japanese wrestling videos) in its burgeoning product line. Spring & Chaos will be issued as a collector's edition DVD that comes in a slipcase complete with a limited edition animation cel from the film. The DVD, which carries a suggested retail price of $29.95, features more than ten minutes of bonus footage including an interview with director Shoji Kawamori.
Spring & Chaos is an excellent example of the anime 'art film.' Although director Shoji Kawamori has demonstrated considerable ability as a mechanical designer of the mecha hardware from Macross, Pat Labor 2, Mobile Suit Gundam 0083: Stardust Memories, and most recently, Earth Defense Family (see 'The Next Big Thing in Anime'), in Spring & Chaos, which he both wrote and directed, he forgoes the mechas, and traces the life story of Kenji Miyazawa, one of Japan's most important poets. Born in 1896 and trained as a geologist, Miyazawa managed to combine scientific curiosity with a Buddist-inspired love of nature. Though he died in 1933, his stories are prescient in their grasp of what we now would call 'ecological' concerns, and his tales also demonstrate the benefits of accepting outsiders in spite of their apparent differences. Miyazawa populated many of his stories with animal characters, which interact with humans in very interesting and often surprising ways.
In Spring & Chaos, director Kawamori mixes traditional hand-drawn cel animation with computer-generated animation to great effect, but perhaps the most striking sequence--a pseudo-dream excursion into the mind and works of Kenji Miyazawa--was done with just 'pencil' animation (no painted cels), which lends a wonderful texture and edginess to this superb sequence.
Anime fans that see Kawamori's name and expect the science fiction robot action of Macross or Gundam will be disappointed in Spring & Chaos.

But anyone who is really interested in Japanese culture and the possibilities of anime to convey the subtle realities of the complicated life of one of Japan's most interesting literary figures, will find in Spring & Chaos further proof that animation, like live action cinema, has enormous potential to operate in all sorts of different genres and tell wildly different kinds of stories.