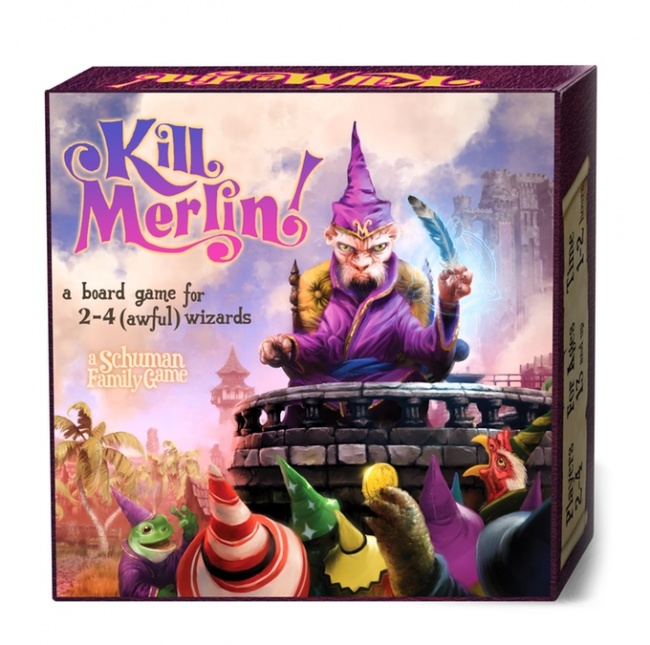 New publisher Schuman Family Games will release
Kill Merlin!
a board game about defeating the megalomaniacal old wizard that has cornered the market on all things magical. The game is currently raising funds on Kickstarter.
Merlin is a tyrant, and his impetuous and unpredictable nature makes it very hard for aspiring young wizards to flourish and other magical folk to live their lives in peace, so the players (young wizards) have decided to take him down. Players use wits, magical and natural ingredients, and their knowledge of magic to craft a spell to bring Merlin down. This family-friendly strategy game involves high player interaction and unique mechanics.

The box includes 20 wizard tokens, 60 mana, 40 ingredient cards (4 x 10 unique cards), 24 elemental spell cards, 32 Merlin cards, 20 secret formula cards, dice and a game board.
The game is currently funding on Kickstarter and met its $12,000 goal in less than 12 hours. The campaign will continue through October 18. There is a retailer level that requires a $50 deposit, with the rest due at a later date.
The game is for 2 - 4 players, ages 13 and up, and plays in 30 – 90 minutes. Tentative MSRP is $49.99. Backer fulfillment is planned for August 2019, with trade release to follow.