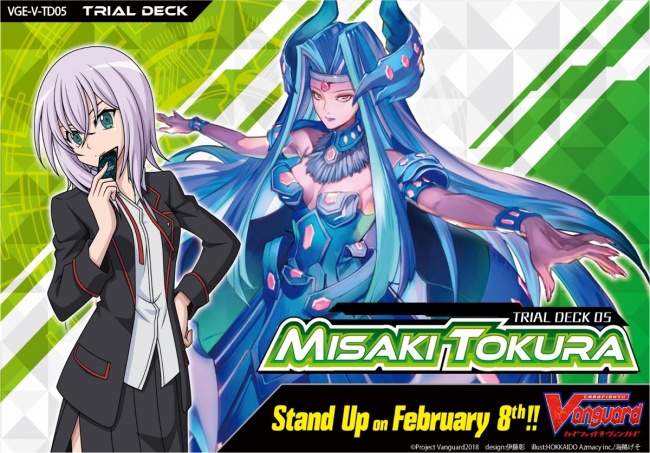 In February, students from Miyaji Academy will be available to compete in Bushiroad's
Cardfight!! Vanguard
trading card game, when the
Misaki Tokura
and
Naoki Ishida
Trial Decks
release on February 8, followed by the
Miyaji Academy CF Club Booster Pack
expansion on February 15.
The Misaki Tokura Trial Deck features the "Oracle Think Tank" clan, as used by the Misaki character, including the "Hexagonal Magus," "Rectangle Magus," and "Cuore Magus" cards. This pre-constructed deck comes with 50 cards in a total of 15 varieties. One random card will have a holo treatment, and the 6 reissue cards included have new artwork.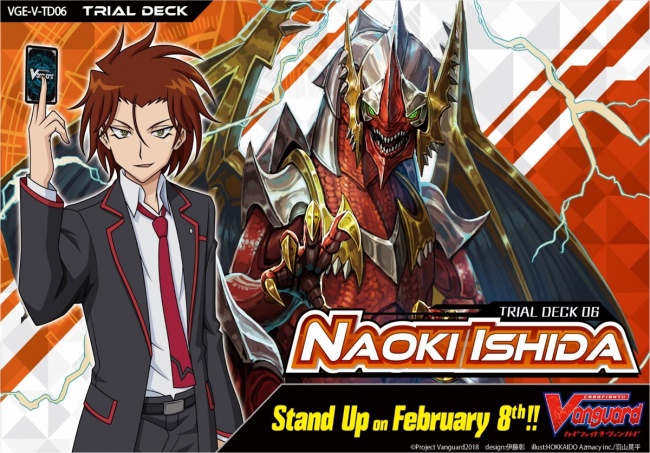 The
Naoki Ishida Trial Deck
is based on that character's deck, featuring the "Narumaki" clan and the "Great Composure Dragon," "Recklessness Dragon," and "Lizard Soldier, Riki" cards. This 50-card pre-constructed deck includes 14 varieties of cards, all new, and has one random holo card.
Both Trial Decks include 50 cards, a playing guide, a playmat, and three gift markers. Each deck will be sold in six-deck display boxes.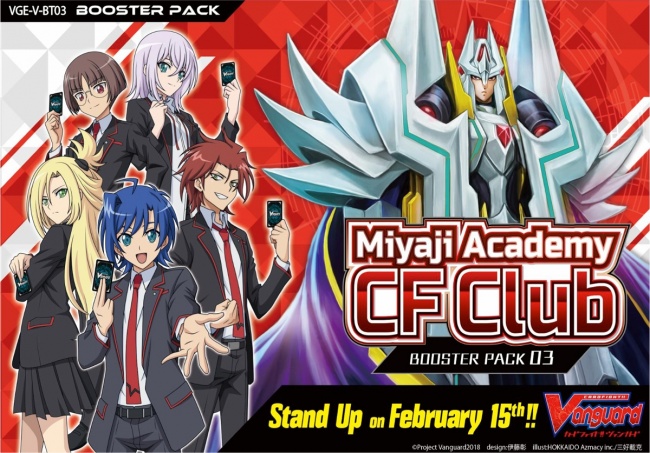 The
Miyaji Academy CF Club Booster Pack
expansion includes cards designed to work well with the clans featured in the two
Trial Decks
as well as cards from the "Nubatama," "Royal Paladin," and "Gold Paladin" clans. There will be a total of 84 new cards in this expansion, in the following rarities: 5 VR, 8 RRR, 12 RR, 17 R, and 42 C, plus 5 parallel SVR, 6 parallel OR, 2 parallel IMR, and 5 SCR cards, as well as 1 SCR Reissue: "Blaster Blade."
Mayaji Academy CF Club will be available in packs with seven random cards, with each pack having two R or higher rarity cards. Boosters will be sold in 16-pack display boxes. Due to the higher number of VR cards in the set, the insertion rate for VR cards has been increased.
Bushiroad is offering a Miyaji Academy CF Club Sneak Preview Kit for stores that want to host a pre-release event during the weekend of February 8, to correspond with the release of the two Trial Decks. The Preview Kit comes with 39 booster packs, 9 promo cards, and 2 copies of a premium rubber playmat, providing enough material for eight participants.
January will see The Answer of Truth expansion for the game (see "'Cardfight!! Vanguard' Has 'The Answer of Truth'").