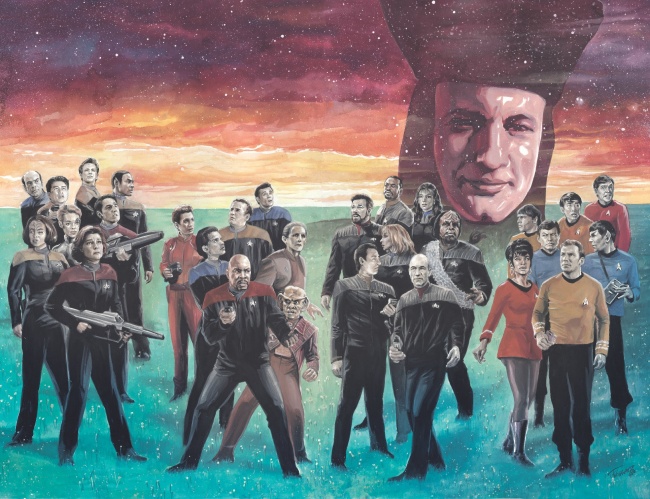 The crews of the major
Star Trek
series are coming together in a crossover miniseries that kicks off in January. IDW's six-issue series is courtesy of writers Scott and David Tipton (
Star Trek: The Next Generation – Mirror Broken
) and artist David Messina (
Cloak and Dagger
,
Star Trek: Countdown
). The first issue has multiple covers, including connecting regular covers by Messina and retailer incentive covers by George Caltsoudas and J.K. Woodward
Star Trek: The Q Conflict brings together captains James T. Kirk, Jean-Luc Picard, Kathryn Janeway, and Benjamin Sisko, as well as the crews of The Original Series, The Next Generation, Deep Space Nine, and Voyager, to battle the biggest foe anyone in the Federation has ever faced: Q and his nearly omnipotent cohorts.
Star Trek remains a popular franchise. January will also see the release of Star Trek: IDW 20/20, a special one-shot commemorating IDW's 20th anniversary (see "IDW Has 20/20 Vision"), and WizKids is releasing a Star Trek dexterity game in February (see "Flick Where No One Has Flicked Before"). WizKids is also adding The Next Generation to the HeroClix lineup in 2019 (see "'Star Trek Heroclix Away Team: The Next Generation' Releases Updated"). Further, Jean Luc Picard himself is set to return to the small screen, with Patrick Stewart reprising the role for a new CBS All Access series (see "Patrick Stewart Returns to 'Star Trek'"), the same streaming service that is home to Star Trek: Discovery (see "More 'Star Trek'").