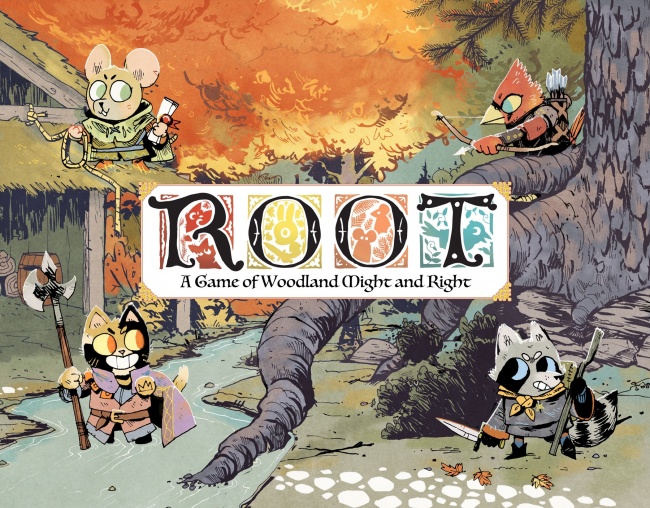 Magpie Games has licensed Leder Games' popular adventure game
Root: A Game of Woodland Might and Right
to produce a role playing game set in the game universe.
Root is an asymmetric war and adventure game where multiple factions fight to control their woodland home. The Marquise de Cat has recently seized control of the woods with her army, displacing the Eyrie birds of prey who have traditionally ruled the kingdom. The Woodland Alliance is quietly gathering power, hoping to create a new order, and the Vagabonds, follow their own path.
In the Root RPG, players will take the role of Vagabonds, travelers seeking riches and adventure. Will they join one of the feuding factions? Or perhaps carve their own path through the forest. Magpie Games will fund the game with a Kickstarter in mid-2019, with plans for release into retail in early 2020. Magpie plans to have a retailer level with exclusives as part of the Kickstarter, as well as an offset print run for retail release. Game system was not announced.
"From the moment we sat down to play Root at Gen Con, we wanted to see more of the woodland," said Mark Diaz Truman, CEO of Magpie Games. "All of us at Magpie Games love tense, political fiction, and Root immediately stood out as an amazing example of just how emotionally compelling a board game can be. We're so grateful Leder Games has given us a chance to bring the woodland of Root to roleplaying!"
Root was funded with a Kickstarter by Leder Games in November 2017 and raised $631,770 from 8,454 backers ($74.73 / backer average) and was released this summer (see "Woodland Creatures Vie for Power in 'Root'') and quickly sold out. A new printing of both the base game and the expansion, Riverfolk, is expected to reach retail in January. The second print run will include 30,000 copies of the base game, Leder told ICv2.