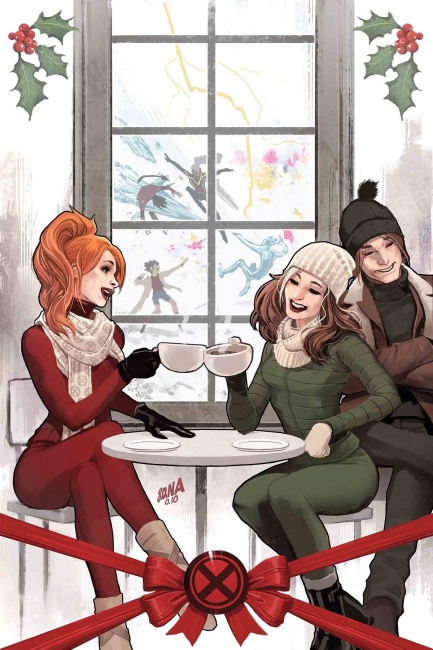 Marvel is ringing in the holidays with 25 new X-Men stories packed into one festive package. The
Merry X-Men Holiday Special
#1 wraps up the fun in 40 pages for an MSRP of $4.99. It will be ready for gift giving season when it hits shelves on December 5.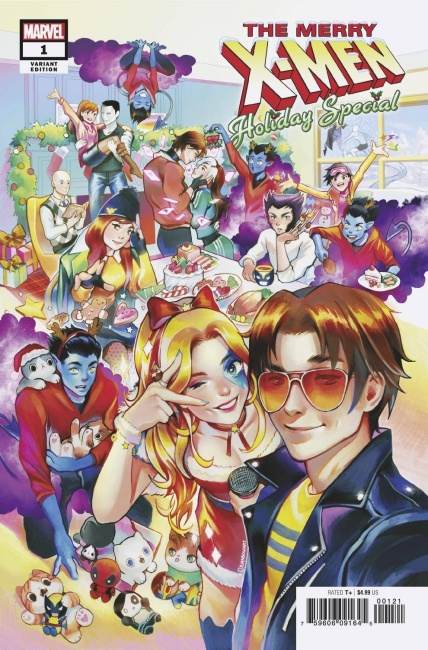 Merry X-Men Holiday Special
#1 features holiday-themed stories by some of the biggest names in comics and starring several of the most popular X-Men, such as Wolverine, Jean Greay, Jubilee, Gambit, Storm, and more. David Nakayama (
Secret Agent Deadpool
cover artist) provides the main cover, with two order-all-you-want variants by Rian Gonzales and Marko Djurdjevic.
Here's the lineup for the issue:
Jubilee in "Mele Kalikimaka!,", written by Chris Sims and Chad Bowers, art by Marco Failla, color by Israel Silva
Kitty Pryde in TBA, written by Chris Claremont, art by Terry Dodson, color by Chris Sotomayor
Wolverine in "#Hotclaws for Hanukkah," written by Charles Soule, art by Ryan Browne, color by Jordan Boyd
Jean Grey in "Dreaming of a Wade Christmas," written by Jean Grae, art by Shawn Crystal, color by Rico Renzi
Nature Girl in "I Hate Christmas," written by Zac Thompson and Lonnie Nadler, art/color by Amilcar Pinna
Jubilee in "Jingle All the Wait a Minute...", written by Chris Sims and Chad Bowers, art by Marco Failla, color by Israel Silva
Gambit in "The Chiche Who Stole Christmas," written by Styles P and Poobs, art by Luciano Vecchio, color by Carlos Lopez
Iceman in "White Elephant," written by Sina Grace, art by Cory Smith, color by Jordan Boyd
Magneto in TBA, written by Cullen Bunn, art by Roland Boschi, color by Dan Brown
Storm in "To All a Good Night," written by Charlamagne tha God, art by Alitha E. Martinez, color by Jay David Ramos
Jubilee in "Deck the Malls," written by Chris Sims and Chad Bowers, art by Marco Failla, color by Israel Silva
Dr. Nemesis in "The Giving Season," written by Christopher Daniels, art by Ray-Anthony Height and LeBeau Underwood, color by Jay David Ramos
Rogue and Gambit in "Christmas Cat-Astrophe!", written by Kelly Thompson, art by David Lopez, color by Chris Sotomayor
Sabretooth in "Red Christmas," written by Aubrey Sitterson, art by Juan Gedeon, color by Jesus Aburtov
Cannonball in "Home for the Holidays," written by Al Ewing, art by PJ Holden, color by Antonio Fabela
Domino in "The Naughty List," by Anthony Piper
The Braddocks in "Baby Steps," written by Leah Williams, art by Marcio Takara, color by Chris O'Halloran
Glob Herman in "Deck the Halls," written by Ed Brisson, art by Pere Perez, color by Chris Sotomayor
Gabby Kinney in "Secret Santa," written by Vita Ayala, art by Pere Perez, color by Chris O'Halloran
Jubilee in "All I Want for Christmas Is You," written by Chris Sims and Chad Bowers, art by Marco Failla, color by Israel Silva
Hope Summers in "The Longest Night," written by Tini Howard, art by Brent Schoonover, color by Chris O'Halloran
Hank McCoy in "Blue Christmas," written by Rainbow Rowell, art by Kris Anka, color by Matt Wilson
Nightcrawler in "X-Mas BAMF," written by Esoteric, art by Michael Shelfer, color by Federico Blee
Jamie Madrox in "The Gift of the Madri," written by Matt Rosenberg, art by Andy MacDonald, color by Tamra Bonvillain
Arcade in "Walkin' in a Winter Murderland," written by Chris Sims and Chad Bowers, art by Marco Failla, color by Israel Silva