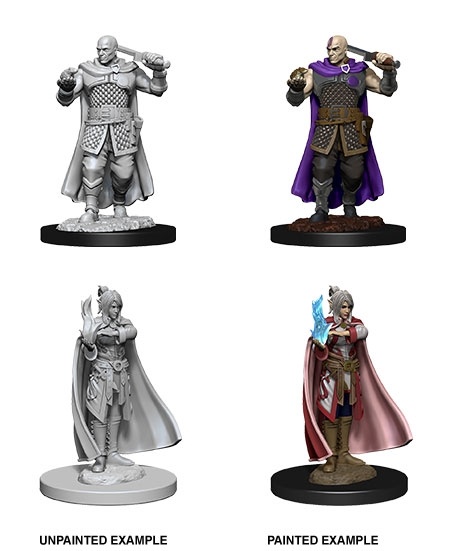 In May, WizKids will release 20 new unpainted model kits, including 16 entries in its
D&D Nolzur's Marvelous Miniatures
series and four
Pathfinder Deep Cuts
kits.
The new models will be unpainted plastic miniatures of characters and creatures drawn from the
Dungeons & Dragons
and
Pathfinder
worlds. All models come pre-primed so they are ready to paint, though some models may require some assembly. They are molded with deeper detailing for easier painting, and some models also feature translucent parts. All models are packaged in clear packaging so the models are visible before purchase.
Nine of the new
D&D Nolzur's Marvelous Miniatures
packs feature human-scale characters, packaged two to a set, all with an MSRP of $4.99 each:
Female Human Cleric
Male Human Monk
Male Human Cleric
Male Human Fighter
Female Dragonborn Sorcerer
Vampire Hunters
Bandits
Hobgoblins
Minsc & Delina
The remaining seven packs come with larger monster models, packaged one to a set. MSRP is $14.99 each:
Hill Giant
Cloud Giant
Stone Giant
Young Copper Dragon
Young Green Dragon
Young Blue Dragon
Young Black Dragon
The four Pathfinder Deep Cuts kits include one or two models, and are MSRP $4.99 each:
Female Dwarf Barbarian (2 models)
Female Halfling Rogue (2 models)
Orcs (2 models)
Grim Reaper (1 model)
See the Gallery below for images of the new miniatures!
In January, the company will offer packs of unpainted bases suitable for use with these and other models (see "WizKids Releasing Miniature Bases").