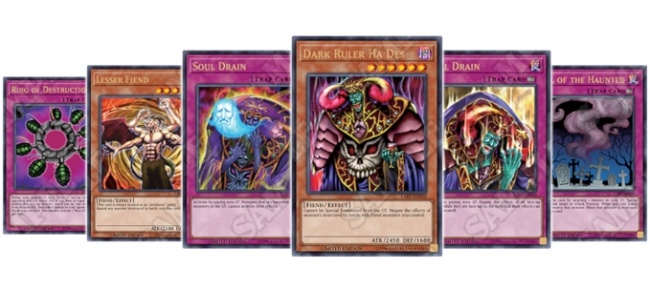 Konami will be offering a new Lost Art Promotion next year to give players a chance to get a half dozen cards with artwork never before available outside of Asia.
Like the 2018 Lost Art Promotion (see "'Yu-Gi-Oh!' 'Lost Art Promotion'"), a different Lost Art card will be available each month, only through Official Tournament Stores. To be eligible, customers must purchase at least $30 worth of sealed Yu-Gi-Oh! TCG products, which will award them one free Lost Art Promotion card.
The promotion will be split into two three-month segments: January-March, and June-August. The six cards that make up the promo were all part of Yu-Gi-Oh! Trading Card Game releases in Asia, from as many as 18 years ago:
Ring of Destruction
Call of the Haunted
Dark Ruler Ha Des
Lesser Fiend
Skill Drain
Soul Drain
This is the first time that these cards will be made available to the rest of the world with the original Asian art. The promotion will kick off with Ring of Destruction in January.
Supplies of the Lost Art Promotion cards will be limited, and they will be available only while supplies last.
The first set for the new Yu-Gi-Oh! TCG Speed Duel format will release in January (see "New Details, Pic for 'Yu-Gi-Oh!' Speed Dueling Launch"), with the first booster set coming in March (see "'Yu-Gi-Oh! Speed Duel' Gets First Booster"). An all-foil set will also release in March (see "'Yu-Gi-Oh! – The Infinity Chasers'").
Yu-Gi-Oh! continues to hold steady at the #3 spot on ICv2's list of top-selling collectible games (on our PRO site, see "PRO: Collectible Games Market Report and Top Brands Chart – Summer 2018").