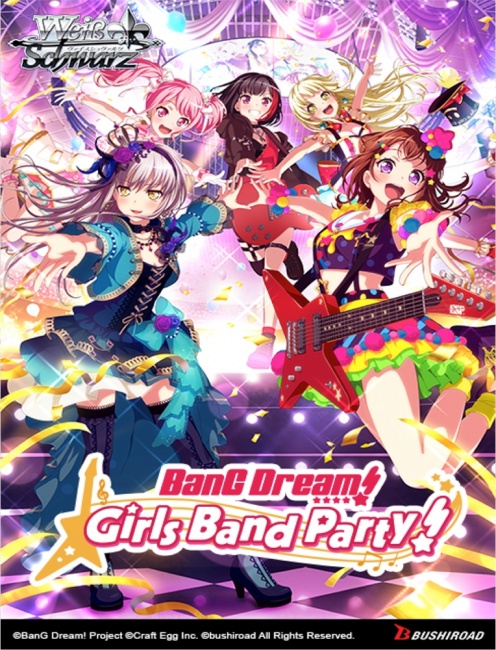 Characters from five different bands featured in the
BanG Dream! Girls Band Party!
mobile game will appear in the upcoming
BanG Dream! Girls Band Party! MULTI LIVE
booster expansion for Bushiroad's
Weiss Schwarz
Trading Card Game
, releasing on April 5.
The new expansion will include all of the characters from the Poppin' Party, Afterglow, Pastel * Palettes, Rosella, and Hello, Happy World! bands, all of whom appear in the mobile game. Other cards in the set depict scenes from the mobile game as well. The cards in this set are designed to work well with the BanG Dream! Girls Band Party! expansion (see "'BanG Dream! Girls Band Party!' Joins 'Weiss Schwarz'"), and can be used in decks with cards that have "BD/J" numbers.
The complete set has a total of 126 cards, with 125 parallel cards, packaged in eight-card booster packs. Some random packs will include one of five different signature cards featuring the lead vocalist of one of the bands, one of 25 different signature cards featuring other band members, or one of five different band logo cards. The cards in the set appeared in separate Japanese-language Trial Decks named for each of the five bands and the BanG Dream! Girls Band Party! Special Pack.
The boosters will be sold in 20-pack display boxes. Each 16-display carton will include four rubber playmats exclusive to the English language edition.
An expansion based on the Cardcaptor Sakura anime series is releasing in February (see "'Weiss Schwarz' Adds 'Cardcaptor Sakura: Clear Card'").