Yen Press and Seven Seas Entertainment kicked off 2019 with a flurry of new license announcements.

While VIZ Media didn't have any manga news, the anime The Promised Neverland started streaming this week on Hulu, Crunchyroll, and several other services, which may bring more attention to this series. Another series, Hunter x Hunter, may get a boost from the feature film Hunter x Hunter: The Last Mission, which will begin its U.S. release on January 30.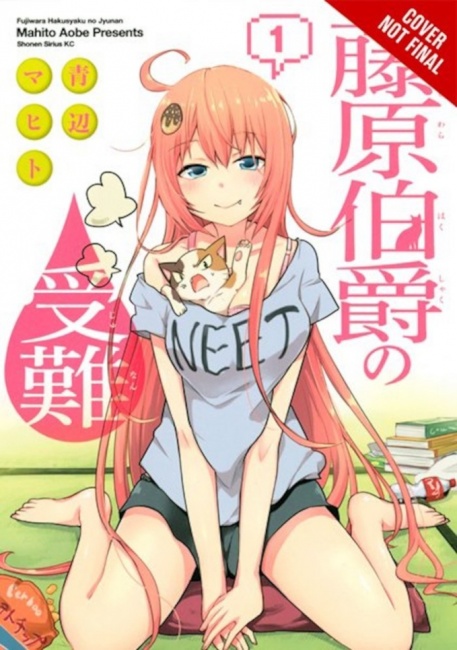 On to the new titles! Yen Press announced seven new titles on
Twitter
. All will debut this July:
Count Fujiwara's Suffering: The count in this title is actually a cat with delusions of grandeur; he lives with two sisters, one of whom secretly has a crush on the other.
Cocoon Entwined: This is a yuri (girls love) story set in the super-fancy Hoshimiya Girls Academy.
Secretly, I've Been Suffering About Being Sexless: Another spoilers-in-the-title story, this one about mismatched newlyweds.
Skull-Face Bookseller Honda-San: Again, just as the title says, this is a slice-of-life comedy about a skull-faced guy who works in a bookstore. The anime inspired by this manga is available on Crunchyroll.
The Survived Alchemist with a Dream of Quiet Town Life: Yen Press has licensed both the original light novels and the manga adaptation of this story about an alchemist who wakes up from 200 years in suspended animation into a world where all the other alchemists have died off. Her skills and potions are in high demand, but she's had enough and just wants to relax and chill out in some sleepy little town.
Little Witch Academia: The Nonsensical Witch and the Country of Fairies: This is a light novel spinoff of the Little Witch Academia anime and manga.
Woof Woof Story: I Told You to Turn Me Into a Pampered Pooch, Not Fenrir! The title says it all: An overworked salaryman is granted his final wish, to be reincarnated as a doted-on dog in a wealthy household. At first all goes well in, but as time goes on he keeps growing and getting fiercer, because he's not a dog, he's Fenrir, the fabled wolf of Norse mythology. Due out February 19. This is an adaptation of the light novel, which Yen also publishes.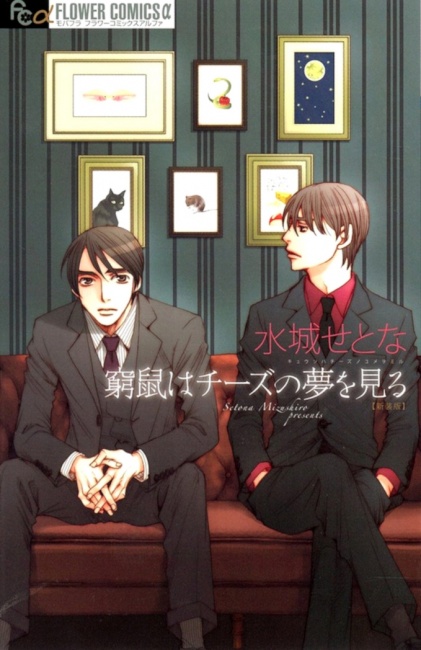 Here's the lineup of new titles that Seven Seas Entertainment announced last week:
The Cornered Mouse Dreams of Cheese and The Carp on the Chopping Block Jumps Twice: These are two one-volume boys love stories by Setuna Mizushiro, the creator of Black Rose Alice and the Eisner-nominated After School Nightmare. In The Cornered Mouse Dreams of Cheese, a private investigator blackmails the cheating husband he is tailing into having sex with him. The Carp on the Chopping Block Jumps Twice is a sequel about the same characters. The Cornered Mouse Dreams of Cheese will be released on November 5, 2019, with an MSRP of $13.99.
Become You: Ichigo Takano, creator of the Eisner nominated shojo manga orange, is back with a new story about two high school boys who form a band and dream of becoming superstars. Appropriately, this manga has a companion song: Kimi ni Nare (the Japanese title of the series) by the band Kobukuro. Volume 1 will be out on September 10, 2019, with an MSRP of $12.99.
The Wize Wize Beasts of the Wizarding Wizdoms: This is a collection of eight boys love stories featuring magical creatures, by the creator of The Girl from the Other Side: Siuil a Run. The single volume manga, which will feature a larger-than-usual trim size, is scheduled for October 1, 2019, with an MSRP of $13.99.
Nicola Traveling Around the Demon's World: A young girl and her demon friend travel around a fantasy kingdom and get into all kinds of trouble in this all-ages manga that the publisher describes as similar in spirit to the Moomin books and the Hilda graphic novels. The first volume will be released on October 22 with an MSRP of $12.99.
Ghostly Things: A supernatural manga in the mold of the film Spirited Away and VIZ's The Demon Prince of Momochi House, this is a story about a girl who lives in a house filled with spirits. The first volume is scheduled for October 1, 2019, with an MSRP of $12.99.
Our Wonderful Days: A high school girl falls in love with the new transfer student (with whom she shares a childhood connection) in a yuri romance set in the countryside. This manga got its start on the online community Pixiv. The first volume will be released on November 12, 2019, with an MSRP of $12.99.
Arifureta: Zero and Arifureta: I Love Isekai: These two series are spinoffs of Arifureta: From Commonplace to World's Strongest, a manga and light novel series about a teenager who is transported to a magical world along with the rest of his class, but is given only average abilities and must work hard to level up. An anime series based on the main story is scheduled to begin in July 2019. Arifureta; Zero is a prequel to the story; the first volume will be released on September 10, 2019. Arifureta: I Love Isekai is a 4-panel gag manga; volume 1 is due out on December 10, 2019. Both will have an MSRP of $12.99.
How to Train Your Devil: A fierce woman warrior is tasked with raising, and possibly reforming, an evil baby demon lord. Hilarious complications ensue! Volume 1 is due out on October 8, 2019, with an MSRP of $12.99.
The Brave-Tuber: This fantasy manga features two adventurers who fight duels for money, fame, and more subscribers to their video channels in a magical world with demons, monsters, and the internet. Volume 1 is scheduled for September 10, 2019, with an MSRP of $12.99.
And finally, a light novel: Neon Genesis Evangelion: Anima is an authorized spinoff of the famous manga/anime series that presents an alternative ending to the story. The first volume will be released on October 29, 2019, with an MSRP of $13.99.
Click Gallery below for Japanese covers of all the licenses announced above!