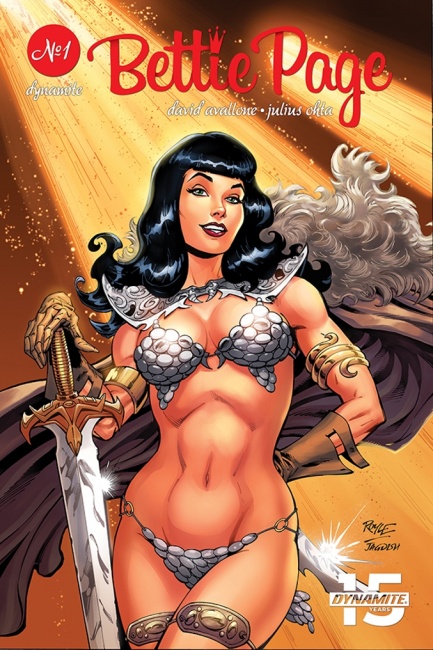 First she was a spy, now Dynamite Entertainment is pitting pin-up Bettie Page against an Lovecraftian Great Old One in a series launching in April.
Bettie Page: Unbound will be written by David Avallone (Bettie Page, Legenderry: Vampirella) and drawn by Julius Ohta (Bettie Page: Halloween Special, Sherlock Holmes: Vanishing Man). Keeping with the "unbound" theory, Dynamite will have Bettie cosplaying as Red Sonja on the main cover drawn by John Royle. Additional covers will be provided by Scott Chantler, David Williams, and Julius Ohta. A photo variant will be available for issue #1 as well.
(See gallery below for 5 cover images!)
Bettie has gotten on the bad side of Yog-Sothoth, who is opening an inter-dimensional gate to invade Earth. The gate has begun collapsing reality, and of course, Bettie won't stand for this nonsense. She is suddenly transported to the ancient past, where she is cast I the role of barbarian queen. A series of multiversal Freaky Friday situations will ensue.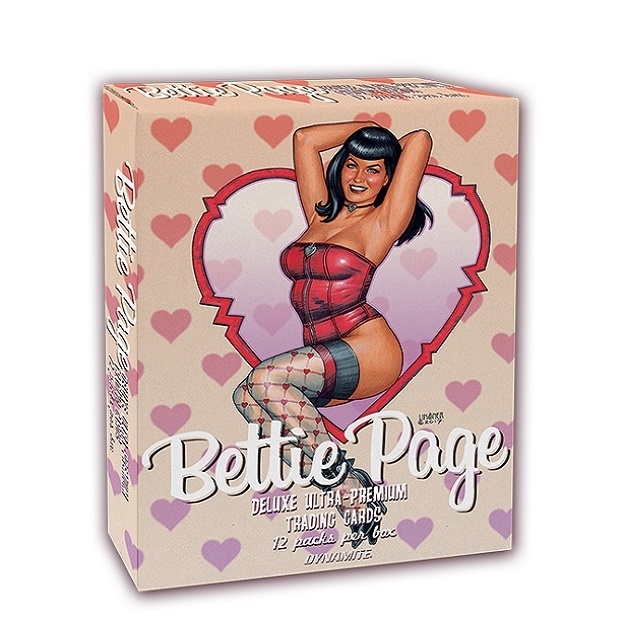 Also releasing in April will be a set of
Bettie page Ultra-Premium Deluxe Trading Cards.
The line will include art from Joseph Michael Linsner, David Williams, John Royle, and Scott Chantler among others. Sketch card artists will be providing one-of-a-kind pieces for the set, and of course, there will be iconic photographs of Page as well. Each foil pack includes 2 Base Cards, 2 Sketch Cards, 1 special black & white card, 1 puzzle card, and 1 autographed card. MSRP was not announced at this time.