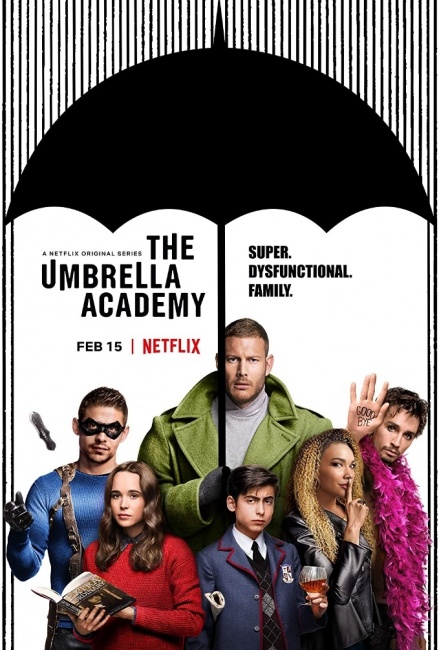 The dysfunctional family of
The Umbrella Academy
has eight days to stop the end of the world in the latest trailer for the Netflix series.
In the trailer, Aiden Gallagher's Number 5 (The Boy) comes back from the future to warn the other members of the Umbrella Academy -- a now (mostly) grownup group of six children with special abilities brought together by Sir Reginald Hargreeves (Colm Feore) -- that the world will end in eight days. So, Tom Hooper's Number 1 (Spaceboy / Luther Hargeeves), David Castaneda's Number 2 (The Kraken / Diego Hargreeves), Emmy Raver-Lampman's Number 3 (The Rumor / Allison Hargreeves), Robert Sheehan's Number 4 (The Séance / Klaus Hargreeves), and Ellen Page's Number 7 (The White Violin / Vanya Hargreeves) have to get their acts together long enough to get the job done.
The show based on Gerard Way and Gabriel Ba's Dark Horse comics series will debut on the streamer on February 15 (see "Trailer and Release Date for 'The Umbrella Academy'").