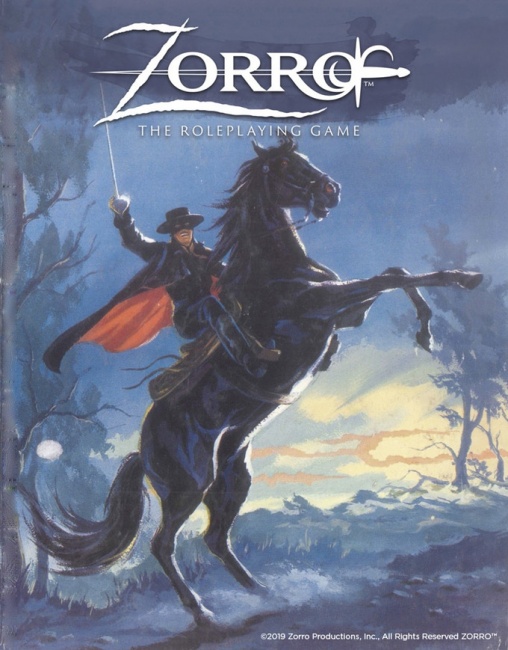 Gallant Knight Games has acquired a license from Zorro Productions, Inc. to produce
Zorro: The Roleplaying Game
, which will release this December, just in time for the character's 100th Anniversary year.
Zorro: The Roleplaying Game
will draw on the novels, comics, films, and television series that have featured the character over the years. Zorro Productions is giving Gallant Knight access to its extensive library of Zorro history, artwork, and other media for the development of the game. The core book, a 200+ page full-color hardcover, will cover the highlights of the swashbuckling hero's career, and will feature artwork drawn from the Zorro Productions archives.
For the game system, Gallant Knight has partnered with Nocturnal Media and West End Games to develop a new edition of West End's venerable
D6 System
. The
D6 System
was used for a number of games under the West End logo, including that company's long-running
Star Wars: The Roleplaying Game
and the
Ghostbusters: A Frightfully Cheerful Roleplaying Game
. The new
D6 System 2E
, which will appear for the first time in
Zorro
, will be a streamlined version of the original game, redesigned to allow greater narrative control.
Zorro: The Roleplaying Game
will feature content from a stable of writers including Alan Bahr, Elizabeth Chaipraditkul, Steffie de Vaan, Miguel Angel Espinoza, Jaym Gates, Jack Norris, Ezzy Languzzi, Sabrina Vourvoulias, and William L. Munn. MSRP is $60.00.
Gallant Knight is seeking funding for the production of
Zorro
through a Kickstarter campaign that has attracted $20,754 from 365 backers as of this writing (an average of $56.87 per backer), easily exceeding the campaign's $15,000 goal with 25 days to go. The campaign includes a retailer-only backer package that unlocks special retailer pricing. Backer fulfillment is scheduled for December, with release into the trade through Studio2 Publishing to follow.
Renewed interest in the Zorro character surrounding his 100th Anniversary has also led to a new comic series from American Mythology (see "
Michael Kaluta Illustrates New 'Zorro' Covers
").