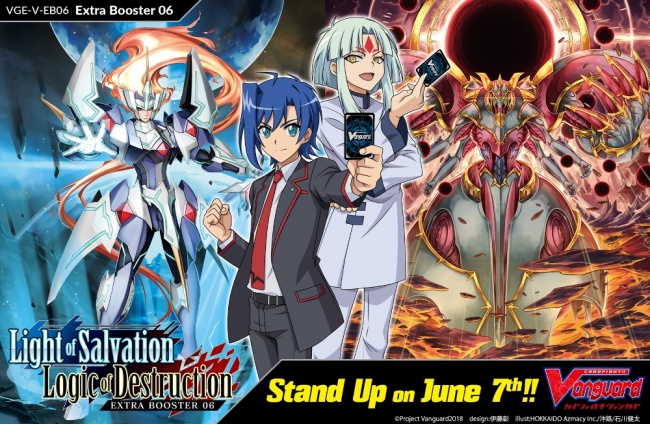 Bushiroad will release
Cardfight!! Vanguard Extra Booster 6 – Light of Salvation, Logic of Destruction
on June 7.
This booster includes Aichi Sendou's Royal Paladin Units and Takuto Tatsunagi's Link Joker Units directly from the Cardfight!! Vanguard animated series. There are also trump cards for players of Kagero and Nova Grappler clans. Link Joker clan players will be happy to see all four types of Trigger Units will be reissued with this set.
The booster will include 46 types of cards [42 new cards, 4 reissue], including: VR: 4 / RRR: 6 / RR: 8 / R: 12 / C: 16) + Various Parallels. Each pack contains 7 random cards, with 2 cards in every pack definitely being R of above. More information on the parallel cards will be revealed at a later date. Each display contains 12 packs, and each display box includes a random (1 of 4) unit illust Gift Marker. Each carton includes 24 display boxes. For Initial Preorders, 2 bonus playmats will be included inside every carton.
For retailers who wish to hold prerelease events, the Cardfight!! Vanguard Light of Salvation, Logic of Destruction Sneak Preview Kit will include everything need to host events the weekend of May 31 – June 2. Each Kit includes 39 booster packs, 8 + 1 Promotional Cards, and 2 Premium Rubber playmats (1 design), enough to run an event for 8 players. Sealed or booster draft format events with 4 – 8 players are recommended. Only registered tournament retailers may order the kit. Each player should receive 4 packs, with the remaining 7 packs serving as a prize.
Cardfight!! Vanguard will release a new all-holo reissue collection in April (see "All-Holo Reissue Set for 'Cardfight!! Vanguard'").