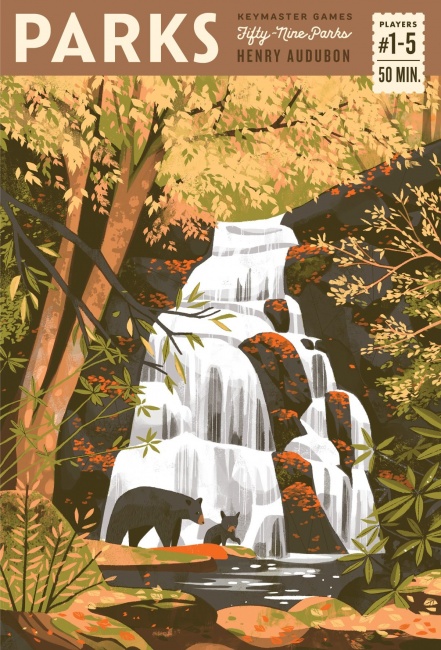 Keymaster Games will release a colorful celebration of the U.S. National Parks with
Parks: The Board Game
in late 2019.
Parks: The Board Game is designed by Henry Audubon (Space Park), and features art from the Fifty-Nine Parks Print Series, which is a celebration of the National Parks. Players take the role of hikers as they trek through different trails through four seasons of the year. While hiking, players take actions and collect memories of the sites (memories being the resources of the game.) Players then trade in their memories to collect National Park cards at the end of each hike. Players will be able to purchase equipment and fill up canteens to make future hikes more efficient, but in the end, it's the Park cards and photos that win the game.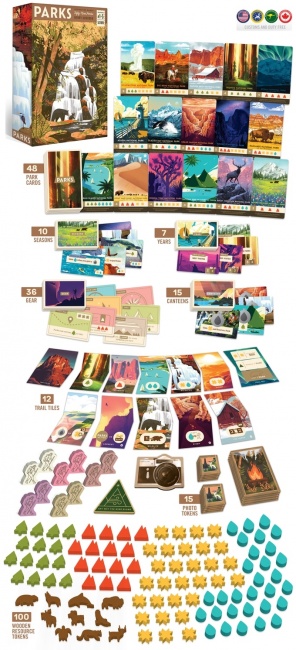 The Kickstarter has raised $354, 534 from 8,217 backers ($43.15/ backer average), well past the initial $20,000 goal. The Kickstarter ends in 26 hours. Keymaster is offering retailers a backing opportunity for a $80.00 deposit on 5 copies of
Parks
, all stretch goals and a demo copy of the game. Backer fulfillment is planned for August, and retail release will tentatively follow in late Q3.
The box includes, 48 park cards, 10 seasons cards, 7 year cards, 36 gear cards, 15 canteen cards, 12 trail tiles, 15 photo tokens, and 100 wooden resource tokens. The game is for 1 – 5 players, and plays in 30 – 60 minutes. Tentative MSRP is $49.00.
Keymaster Games is also helping to support the real parks with an annual donation to the Nation Park Service for the lifetime of the product. The donation will be based on the gross retail revenue of the year.