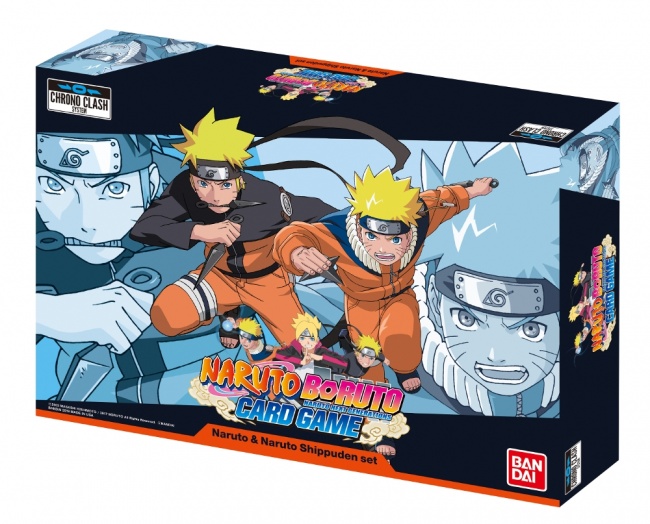 Bandai, creators of the
Dragon Ball Super Card Game,
will release the
Naruto Boruto Card Game,
an expandable deck building game where players recreate their favorite ninja battles from the animated world of
Naruto.
Release is planned for June.
The initial release will include two different sets: Set 1 with Naruto and Naruto Shippuden, and Set 2 with Boruto and Naruto Shippuden. Each set contains two decks of 50 cards, a shared sideboard of 8 cards, 12 double-sized cards, 2 turn-sequence cards, a play manual, and two play sheets. MSRP is $34.99 each. Sets can be mixed and matched to create a variety of decks or introduce multiplayer action. The game features original illustrations of characters from the animated Naruto, Naruto Shippuden, and Boruto series. The game is for 2 – 4 players, ages 6 and up, and plays in 30 minutes.

Designed by Ryan Miller, who has credits on
Betrayal Legacy, Epic PVP: Fantasy,
and
UFS: Street Fighter,
the game has players assemble teams including the original Team 7's Naruto, Sasuke, and Sakura; the new generation's Boruto, Sarada, and Mitsuki: or the Uchinha clan. Using the new turn and resource system, Chrono Clash, players can strategically use their resources and realistically represent the flow of real battles, where momentum shifts from player to player. The Chrono Clash system will allow for future releases from different IPs to join the fight.
Players construct their deck with two types of cards – battlers and actions – and can win by dealing damage to their opponent or by completing four quest points.
Launch Kits will be available to retailers who order 1 case (4 pcs of each) from distributors in early April. Each kit includes 2 demo decks, promo posters, and an exclusive playmat. The game launch will coincide with exclusive tournament kits for retailers, which will include foil promo cards and exclusive playmat designs.