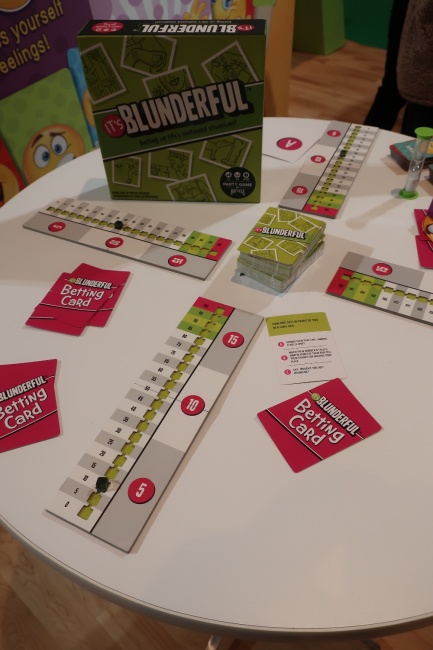 The United States Playing Card Company is launching a new game imprint, Games by Bicycle, this year and will be promoting upcoming releases at the GAMA Trade Show next week. At Toy Fair, the company was showing off two party games,
Blunderful
and
Shuffle Grand Prix.
According to a company representative, over 80 percent of people who play with Bicycle brand playing cards also play board games, so the transition seemed like a natural fit. The company plans to release five to seven games a year.
Blunderful is a party game about handling awkward situations. One player reads a card about an awkward situation – and must chose one of three listed responses. All the other players pick the answer they think the reader will choose – and bet points on the outcome. For example, if the question was "If you didn't know how to eat a fancy food, would you: A. look up an online demo, B. walk around pretending you dropped something so you can see how others eat it, or C. stuff yourself with bread and grab a doggy bag? Other players guess what they think the reader will choose, and bet 5, 10 or 15 points on their expectation.
The game is for 4 – 8 players, 17 and up (for some adult situations), and plays in 30 minutes. MSRP is $24.99.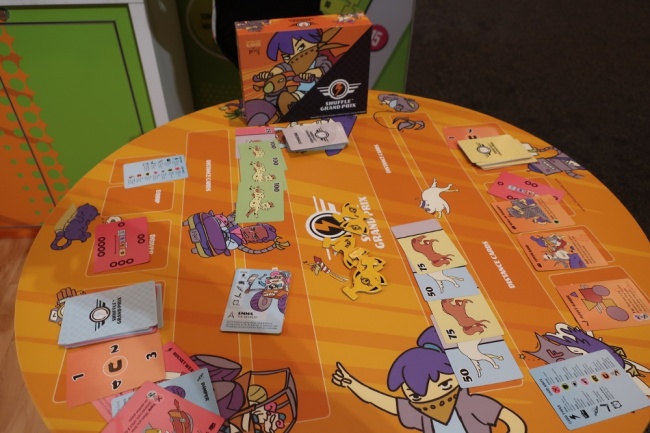 Shuffle Grand Prix
is a racing card game built on the nostalgia of 80s and 90s racing video games. Every player has two drivers, which they use to try to out-distance their competitors. Players can also sabotage their competitors. The player who travels the furthest distance when the distance cards run out, wins.
The game is for 2 – 4 players, ages 13 and up, and plays in 30 minutes. MSRP is $24.99.
Hobby release for both games will be May, with distribution expanding to mass merchants in the fall. Another party game will be launched at Gen Con.
See teaser images in the gallery below!