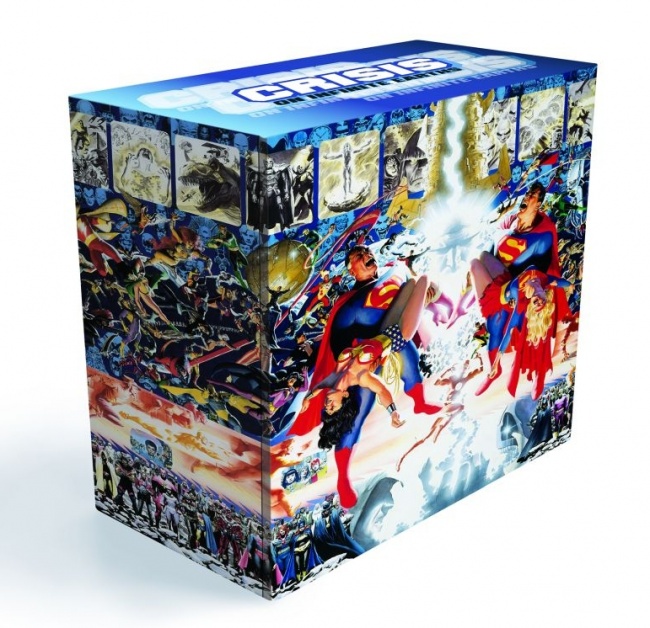 DC Comics will release the $500.00
Crisis on Infinite Earths Box Set,
which will include hardcover collections of 14 volumes, eight of which are releasing in hardcover for the first time.
The collection includes six volumes previously released in trade paperback, as well as eight new collections that spotlight the heroes of the 1980s Crisis on Infinite Earths. The Justice League, The Justice Society, the All-Star Squadron, Infinity, Inc, Superman, Green Lantern, and others all join forces to save the DC Universe.
The collection includes work by Marv Wolfman, Gardner Fox, Roy Thomas, Gerry Conway, George Perez, Mike Sekowsky, Dick Dillin, Todd McFarlane and others. The box set art is provided by Nicola Scott and Jerry Ordway.
The $500.00 box set will weigh approximately 28 lbs, and the dimensions are 12.5" x 13.5" x 8". Release is set for November 6.
The set includes:
Crisis on Multiple Earths Vol. 1 HC collects Justice League of America #21-22, 29-30, 37-38 and 46-47
Crisis on Multiple Earths Vol. 2 HC collects Justice League of America #55-56, 64-65, 73-74 and 82-83
Crisis on Multiple Earths Vol. 3 HC collects Justice League of America #91-92, 100-102, 107-108 and 113
Crisis on Multiple Earths Vol. 4 HC collects Justice League of America #123-124, 135-137 and 147-148
Crisis on Multiple Earths Vol. 5 HC collects Justice League of America #159-160, 171-172 and 183-185
Crisis on Multiple Earths Vol. 6 HC collects Justice League of America #195-197, 207-209 and All-Star Squadron #14-15
Crisis on Infinite Earths HC collects Crisis on Infinite Earths #1-12
Crisis on Infinite Earths: All-Star Squadron HC collects All-Star Squadron #50-60
Crisis on Infinite Earths: Green Lantern HC collects Green Lantern #194-198, The Legion of Super-Heroes #16 and 18 and The Omega Men #31 and 33
Crisis on Infinite Earths: Justice League HC collects The Fury of Firestorm #41-42, Detective Comics #558, Wonder Woman #327-329 and The New Teen Titans #13-14
Crisis on Infinite Earths: Legends HC collects The Losers Special #1, Swamp Thing #44 and 46, Legends of The DC Universe: Crisis on Infinite Earths #1, Blue Devil #17-18 and Amethyst #13
Crisis on Infinite Earths: Infinity, Inc. HC collects Infinity, Inc. #18-25, Infinity, Inc. Annual #1 and Justice League of America #244-245
Crisis on Infinite Earths: Superman HC collects DC Comics Presents #78, 86-88 And 94-95, Superman #413-415 and Justice League of America Annual #3
Crisis on Infinite Earths: Behind The Crisis collects The History Of The DC Universe #1-2, pre-Crisis appearances of the Monitor, behind-the-scenes material and more