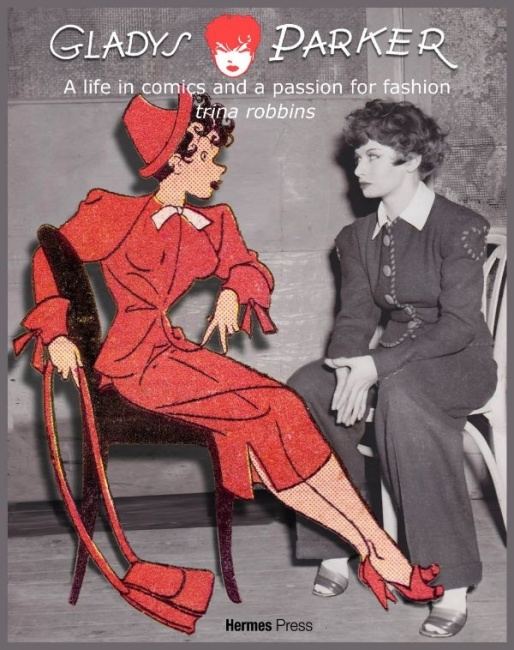 Comics pioneer Trina Robbins is working on a biography of comics pioneer Gladys Parker(1910-1966), who (like Robbins) was both a cartoonist and a fashion designer. Hermes Press will publish
Gladys Parker: A Life in Comics and a Passion for Fashion
as a 256-page hardcover with an MSRP of $59.99. Hermes plans a Christmas 2019 release.
Parker moved to New York when she was 18 to study fashion illustration, and in the late 1920s and throughout the 1930s she wrote and drew a number of newspaper comic strips, including the flapper strips
Gay and her Gang
and
Flapper Fanny
(she took over the latter from creator Ethel Hays). In 1939 she launched
Mopsy,
modeling the lead character after herself in both looks and wit. When the Sunday strip was added in 1945, Parker took the opportunity to add paper dolls to the comic.
Mopsy
ran in newspapers until 1965, and in the late 1940s, St. John Publications began printing
Mopsy
comics, which were later reprinted by Charlton.
The success of
Flapper Fanny
helped Parker establish herself as a fashion designer as well as a cartoonist. She had a retail clothing line called Gladys Parker Designs and also designed clothing for the movies.
Robbins was part of the underground comics movement in the 1960s, drew Wonder Woman in the 1980s, and is the creator of numerous comics and graphic novels as well as books on the history of women in comics. Like Parker, she was also a clothing designer, selling her creations from a boutique in the East Village in New York.
Click Gallery below for Gladys Parker art!