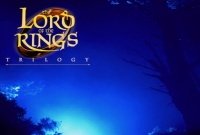 New Line Cinema, the studio behind the LOTR trilogy has inked a major deal with Burger King for a promotional campaign that will 'expand beyond the traditional theatrical window of the movie.' Dealing as we are with the normal glut of summer blockbusters, it's hard to imagine that in 2001, November and December will see the premieres of films that are every bit as big and important to the pop culture marketplace as Shrek, Tomb Raider, and Planet of the Apes. Monsters, Inc., the latest film from Disney/Pixar (Toy Story I &II) opens in November, followed quickly by the first Harry Potter film, while in December there is the trifecta of Fellowship of the Ring, The Time Machine, and The Road to Perdition, which stars Tom Hanks and is based on the graphic novel by Max Allan Collins. The Fellowship of the Ring, the first of three films based on Tolkien's Lord of the Rings saga, has enormous potential and has already stirred up major fan interest (see 'LOTR Drives Web Traffic') and lots of major merchandising deals (see 'Toy Biz Gets Rings,' 'Decipher Adds Rings RPG,' 'Alliance, Diamond Have LOTR Exclusive').
No details about the promotion are being released at this time, except for the hint about its unnaturally long duration.

It is probable that the deal includes all three films in the LOTR saga.

The entire trilogy is being filmed now, but the films will be released each holiday season for three consecutive years starting this coming December 19th.

New Line will probably release the video/DVD of the films six to eight months after they open -- and with the increasing popularity and economic importance of video release (see 'Video Helps Studios Weather the Storm') Burger King may be able to keep some sort of promotional activity going throughout most of the year, especially considering the enormous built-in audience for Tolkien's fantasy masterwork.

This increased level of promotional noise is another factor to consider when deciding how to handle this property in the coming months.