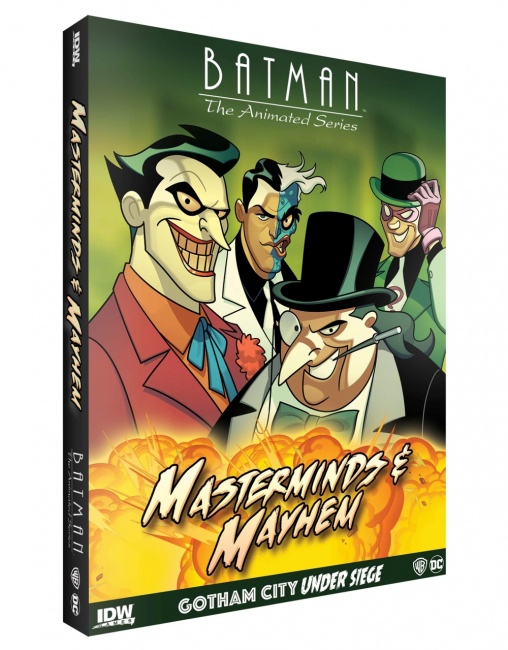 IDW Games will release
Batman The Animated Series: Gotham City Under Siege – Masterminds and Mayhem,
a new expansion for the board game on October 9 (see "
'Batman: The Animated Series – Gotham City Under Siege'
").
Batman's enemies were defeated in the main game, but now they've returned with a vengeance. The Masterminds have gathered better weapons (armored cards, massive explosive) and are now joining the fight personally – The Joker, Two-Face, and the Riddler get new Mastermind cards. The expansion includes new Rooftop Villains and Act Leader Target mechanics.
The box includes 20 Mastermind cards, 8 story cards, 5 hero skill cards, 4 act setup cards, 5 armored car tokens, 5 riddle tokens, 4 killer plant tokens, 1 Two-Face coin token, and a rulebook. As an expansion, it requires the base game to play. The game is for 1 – 5 players, ages 14 and up, and plays in 45 – 60 minutes. MSRP is $14.99.
IDW Games also has another Batman: The Animated Series game releasing this summer (see "Defeat The Batman and Rule Gotham City").