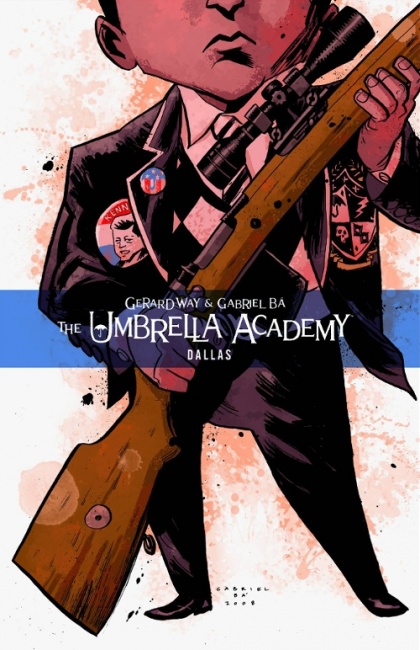 "Tens of thousands of copies" each of the two
Umbrella Academy
graphic novels are currently en route to Diamond Comic Distributors and Penguin Random House warehouses, a Dark Horse Comics spokesperson told ICv2, arriving shortly after Memorial Day. Long stock-outs have been the norm from both Diamond (Dark Horse's comic store distributor) and PRH (Dark Horse's book channel distributor) since January, retailers told ICv2. A significant shipment hit in April, but was quickly absorbed in both channels.
The new shipments will allow Dark Horse's distributors to fill all back orders and have inventory left over to fill additional orders, the spokesperson told us. Over 100,000 of each volume have been printed in several 2019 domestic and international reprints.
"As you're probably aware, the live action series has now been viewed over 45 million times in its first month," the spokesperson said. "To meet the excitement over the Netflix series we've been doing our best to satisfy the demand for the graphic novels."
We asked how copies were being allocated between the book and comic store channels. "We've tried to balance stock as best as possible to ensure that these books are available thru both distribution channels (trade vs. direct)," the spokesperson responded. Multiple reprints have hit Diamond's warehouses this year and backorders were fulfilled leaving some additional inventory that was very quickly picked up. We're doing all we can to minimize any lack of availability in either market."
The first season of the Netflix series dropped February 15 and a second season has been ordered (see "
'Umbrella Academy' Renewed
").
The two
Umbrella Academy
volumes have been selling well in both the book (see "
April 2019 NPD BookScan – Top 20 Adult Graphic Novels
") and comic channels (see "
Top 500 Graphic Novels – April 2019
"), with noticeably stronger sales in the book channel, both by rank on the respective bestseller charts and by quantity (comparing the comic store numbers derived from Diamond indexes and book channel numbers provided by NPD BookScan for our Pro site, see "
Pro: April 2019 BookScan – Top 20 Adult Graphic Novels with Actual Sales
"). Buying non-returnable, comic stores have an inherent conservative bias in their ordering. When trends are moving downward, that protects them from the risks of excessive dead inventory. But when they're moving up, as they are now with
Umbrella Academy
, that conservative buying can hurt the upside.
More
Umbrella Academy
collections are planned, with library editions of the first two volumes and the third collection due this fall (see "
Fall Brings New Editions of 'Umbrella Academy'
").