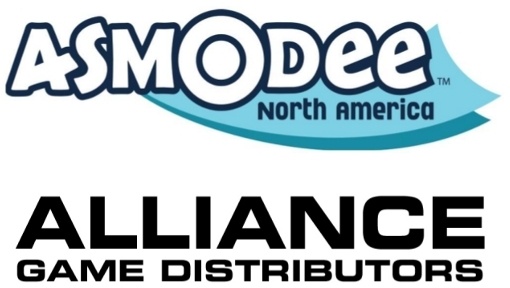 Asmodee North America and Alliance Game Distributors have announced a new phase in their exclusive distribution agreement under which ANA will service more "key retail partners" directly, the companies announced. The key accounts that ANA will begin servicing directly are Flagship Accounts (full-service hobby game stores that offer organized play, do demos, and have in-store gaming space). Alliance remains the exclusive distributor of ANA products to the remaining Flagship and General Accounts (general accounts do not necessarily do the majority of their business through a brick-and-mortar location and do not necessarily offer gaming space).
The account classifications date to 2017, when ANA's exclusive with Alliance and new distribution policies regarding online sales were announced (see "
Asmodee North America Moves to MAP
").
The new ANA-Alliance relationship takes effect July 1.
Under the initial exclusive deal in 2017, ANA kept a "small handful" of direct relationships with Flagship Accounts, while most were rolled into the Alliance exclusive. ANA also services over 400 Toy & Gift Accounts and chain and large online accounts directly. As the number of ANA direct Flagship Accounts expands under the new deal, ANA will add a new team to service them, the company said.
Alliance President Daniel Hirsch expressed support for the new relationship. "We are excited to work with such a key trading partner as Asmodee North America," he said. "We look forward to continuing to provide the Specialty Market with the highest level of service, marketing, and sales efforts for all of ANA's product lines."
ANA Head of Distribution Andre Kieren added a statement of support. "ANA and Alliance's distribution partnership has been strong, and we are proud of the work we've done and will continue to do together," he said. "Everyone here at ANA is excited for this new phase in the distribution deal where we will serve certain key retail partners directly with an educated sales team while the majority of our retail partners remain serviced through Alliance."