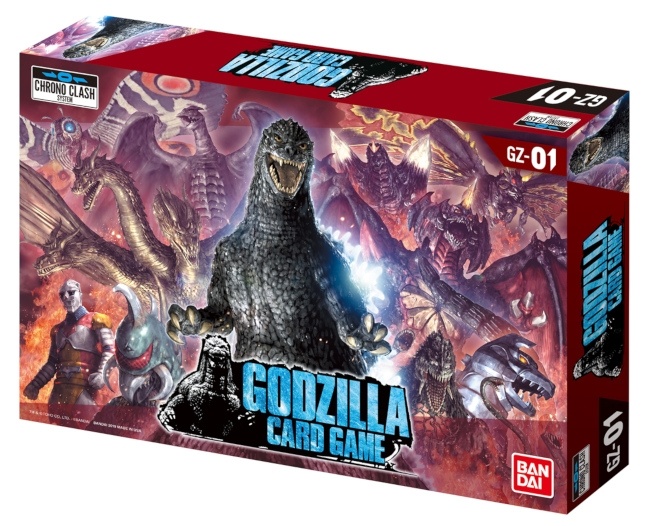 Bandai is bringing out the giant monsters in the expandable
Godzilla Card Game
, featuring the company's new
Chrono Clash
system, which will release in September.
The
Godzilla Card Game
will feature many of the most popular giant monsters from the classic movies, including Godzilla himself, of course, as well as Mothra, Rodan, King Ghidorah, Mechagodzilla, Jet-Jaguar, and more, as imagined in the original movies. The monsters are, naturally enough, poised to do battle for supremacy.
Click Gallery below to see artwork for the game!
The game is built on the new
Chrono Clash
game system, created by Ryan Miller (whose credits include work on
Magic: The Gathering
design teams and lead designer for
Duel Masters
and
Kaijudo
). Instead of traditional turn-based play, in this system players share a power resource track, moving the token back and forth based on the power value of the cards they play. The position of the token determines when play passes to the other player.

The first set for the game will include four pre-constructed 50-card decks plus a 16-card sideboard, as well as 24 double-sized cards, 4 turn sequence cards, 4 play mats, and a multi-language play manual. The
Godzilla card game
is intended for 2 to 4 players, ages 6 and up, and takes about half an hour to play. MSRP is $49.99.
Bandai will support the launch with in-store organized play events starting in October. Participating stores will receive
Tournament Kits
which include support materials for up to eight participants, promotional posters, and tournament prizes featuring
Tournament Packs
with exclusive foil cards and a playmat for the tournament winner. Retailers can get one free
Tournament Kit
for each case of four games ordered.
This summer, Bandai will release another
Chrono Clash
game,
Naruto Boruto
(see "
Assemble the Best Ninja Team in 'Naruto Boruto Card Game'
"). The
Godzilla Card Game
cards will not be compatible with other
Chrono Clash
games.