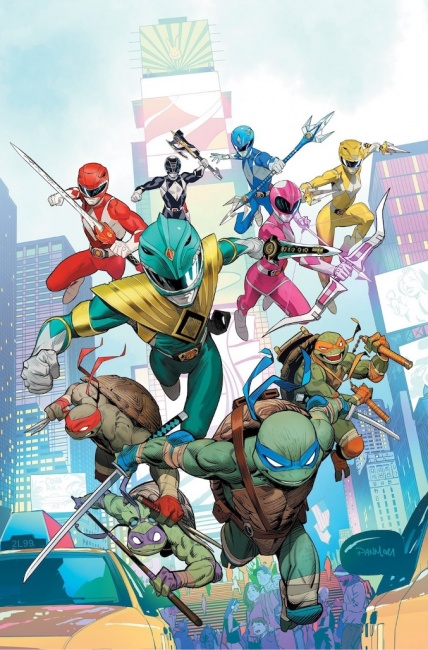 In a comics first, the Mighty Morphin Power Rangers will meet the Teenage Mutant Ninja Turtles in a five-issue limited series to be published by BOOM! Studios, under license by Hasbro, Inc., and in partnership with IDW Publishing and Nickelodeon.
In the series, titled simply
Mighty Morphin Power Rangers/Teenage Mutant Ninja Turtles,
the Green Power Ranger, Tommy Oliver, goes rogue in New York City and teams up with villains the Shredder and the Foot Clan. When the other Rangers arrive in the Big Apple, they find themselves face to face with the Turtles, and it's not exactly love at first sight. Nonetheless, the two very different teams have to figure out a way to resolve their differences in order to beat the baddies and save the world.
The series will launch in December 2019 and the creative team will be writer Ryan Parrott and artist Simone di Meo. Parrott was one of the creators of the
Power Rangers: Shattered Grid
crossover event that brought together the Mighty Morphin Power Rangers and the Go Go Power Rangers. He currently writes comics featuring both Power Rangers teams, as well as the creator-owned projects
Volition
and
Oberon,
both published by Aftershock Comics. Di Meo is the artist for BOOM!'s Mighty Morphin Power Rangers comics, and his other work includes
Venom Annual
#1,
Immortal Hulk: The Best Defense,
and
Old Man Logan Annual,
all published by Marvel.
Dan Mora (
Buffy the Vampire Slayer, Once & Future
) is the artist for the main cover of issue 1, and there will be Turtle Helmet variant covers by several other artists, including Goni Montes (
Mighty Morphin Power Rangers
).