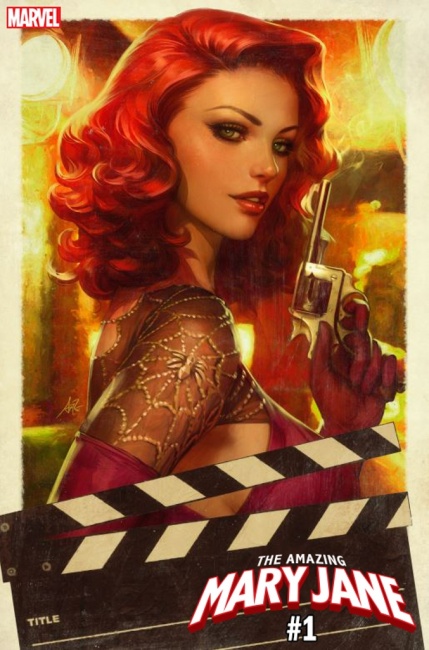 Amazing Mary Jane
, a new ongoing series from Marvel, will launch in October with eight variant covers including a recently revealed piece by Artgerm. The story is written by Leah Williams, with interior art by Carlos Gomez, with the regular cover by Humberto Ramos. Variants include:
Variant cover by Artgerm
Virgin variant cover by Artgerm
Virgin variant cover by Humberto Ramos
Variant cover by Gerald Parel
Variant cover by Carlos Gomez
Variant cover by TBA
Hidden Gem variant cover by TBA
Blank variant cover also available
In the story, which flows out of Amazing Spider-Man #25, Mary Jane is pursuing her dreams, but Mysterio is behind her big shot, and someone worse is behind him, Marvel said in its solicitation.

On sale date for the $3.99 32-page first issue is October 23.

Marvel is promoting the launch with 24 "Mary Jane" variants on other Marvel titles in October (see "Preview: Mary Jane Variant Covers").

Click Gallery below for full-size images of the regular cover by Humerto Ramos, the variant by Artgerm, and the 1:25 ratio variant by Carlos E. Gomez!